President Alvi shares 'affectionate smile' with Saudi crown prince MBS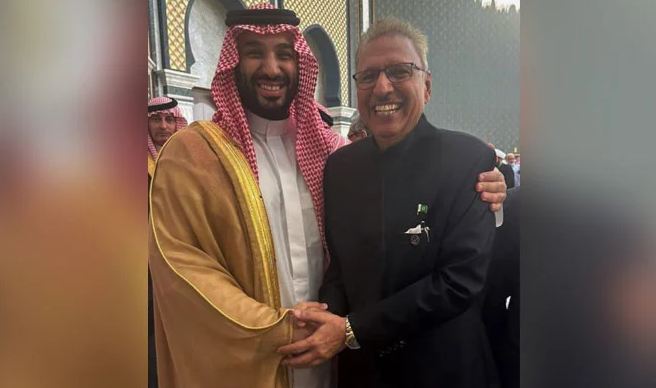 RIYADH, JUL 1: President Arif Alvi on Saturday shared an all-smile picture of him standing with Saudi Arabia's Crown Prince and Prime Minister Mohammed bin Salman on the microblogging website, Twitter, which reflects the close bonds between Pakistan and the kingdom.
Taking to his official Twitter handle, the president shared a photo of him sharing an affectional smile with the crown prince.
President Alvi said that such expressions are very symbolic of a great relationship between the people of the two countries.
He, in the tweet, wrote: "Very symbolic of the great relationship between the people of the Islamic Republic of Pakistan and the Kingdom of Saudi Arabia. No better expression of the kinship than the beaming and affectionate smile on the faces of two brothers."
The president had been to KSA for performing Hajj.
According to Saudi Press Agency, on behalf of the Custodian of the Two Holy Mosques, King Salman bin Abdulaziz Al Saud, MBS, crown prince and prime minister, held an annual ceremony the other day at the Royal Court, Mina Palace for the presidents, prime ministers, senior Islamic dignitaries, guests of the Custodian of the Two Holy Mosques, guests of government agencies, and heads of delegations and offices of pilgrims affairs who performed Hajj this year.
At the outset of the ceremony, the crown prince greeted King Abdullah Ri'ayatuddin Al-Mustafa Billah Shah of Malaysia and other world leaders.