PM warns against sanctioning new Afghan setup to avoid chaos, humanitarian crisis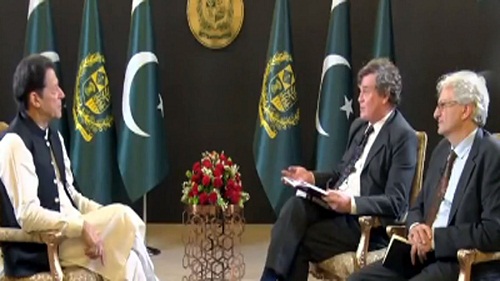 Islamabad : Prime Minister Imran Khan has warned against sanctioning the new Afghan setup saying it will only lead to chaos and a huge humanitarian crisis in Afghanistan.
In an interview with Middle East Eye, he urged the world community to rather engage with Afghanistan to prevent the ascendency of hardline elements within the Taliban's own ranks. He said unless America takes the lead, we are worried that there will be chaos in Afghanistan and Pakistan will be most affected by it.
The Prime Minister said he is working with neighboring states, notably Tajikistan and Uzbekistan, which have sizeable ethnic minorities inside Afghanistan, to encourage the Taliban to widen representation in government. He said Afghanistan needs an inclusive government because it is a diverse society.
The Prime Minister condemned the continued use of drones by the US in Afghanistan saying it is the most insane way of fighting terrorism.
Asked whether Pakistan would allow the US to launch strikes targeting ISIS in Afghanistan from Pakistan, Imran Khan once again made it clear that Pakistan does not need to be part of a conflict again. He said Pakistan has paid a heavy price both human and material in the war on terrorism.
Responding to a question, Imran Khan said the TTP consisted of fifty groups and that he was trying to reconcile those elements who are willing to talk.
Alluding to the worst human rights violations taking place in Indian Illegally Occupied Jammu and Kashmir, the Prime Minister regretted India enjoys the same kind of impunity within the international community over its attempts to change the demographic balance of Kashmir that Israel has in the occupied Palestinian territories. Nine hundred thousand troops have put eight million Kashmiris into an open prison. He said it is a racist government in India.
When asked about relations with China, Imran Khan said this relationship is seventy years old and it has stood the test of time. He said China always stood with us in all our ups and downs.