PM Shehbaz to attend inauguration ceremony of Turkish President in Ankara tomorrow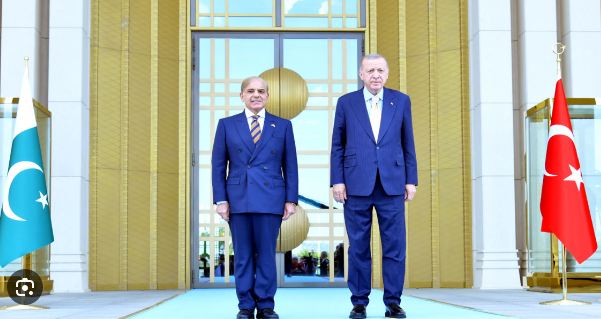 PM Shehbaz to attend inauguration ceremony of Turkish President in Ankara tomorrow
ISLAMABAD, JUN 02 (DNA) — Prime Minister Muhammad Shehbaz Sharif will attend the inauguration ceremony of Turkish President Recep Tayyip Erdogan in Ankara tomorrow. The Prime Minister is paying the visit at the invitation of President Erdogan who was re-elected to the office consecutively for the third term last week.
The Foreign Office spokesperson in a statement said the Prime Minister will convey warm felicitations on behalf of the government and people of Pakistan to President Erdogan. He will also extend an invitation to Turkish President to attend the 7th Meeting of the High-Level Strategic Cooperation Council in Islamabad.
In the second round of elections held on May 28, Erdogan received 52.14 percent of the votes, beating his challenger, Kemal Kilicdaroglu, who won 47.86 percent. "Leaving for Türkiye at the invitation of my brother, H.E. President Recep Tayyip Erdogan, to attend his inauguration ceremony.
I will convey our warmest greetings to the President on behalf of the government and people of Pakistan on his re-election," Prime Minister Shehbaz wrote on Twitter. He said the fraternal ties between Pakistan and Türkiye were set to deepen further in line with their shared resolve and common destiny.
He said the upcoming 7th Meeting of the High-Level Strategic Cooperation Council in Islamabad would provide the right avenue to take the momentum of our strategic partnership forward. "We have yet to unlock the potential of our multifaceted relationship and efforts are being made in that direction," the prime minister commented. — DNA