PM Shehbaz, President UAE discuss cooperation in multiple areas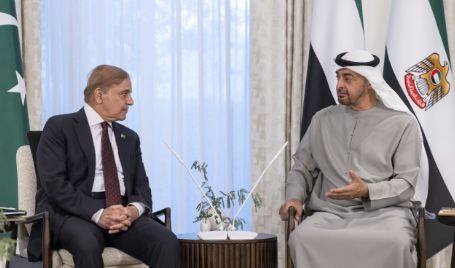 ABU DHABI, JAN 13 /DNA/ – Muhammad Shehbaz Sharif, Prime Minister of the Islamic Republic of Pakistan, conducted an official visit to the United Arab Emirates at the invitation of UAE President Sheikh Mohamed bin Zayed Al Nahyan on 12-13 January. This was the Prime Minister's third visit after assuming office.
Shehbaz Sharif held a bilateral meeting with Sheikh Mohamed bin Zayed Al Nahyan, wherein the Prime Minister was presented with a guard of honor at the Presidential Palace. In the most warm and cordial meeting, the two leaders held detailed discussions on concrete measures to strengthen the bilateral relationship while also exchanging views on regional political and security matters. They also discussed specific initiative to enhance cooperation in political, defense, economic, commercial and cultural areas, developing joint ventures, and strengthening collaboration in the human resource sector.
The Prime Minister thanked Sheikh Mohamed bin Zayed Al Nahyan for UAE's generous assistance during the recent floods in Pakistan, particularly through an air bridge established for this purpose.
With a view to developing tangible and meaningful bilateral cooperation in key areas, the two sides agreed to intensify consultation and coordination geared to strengthening strategic partnership and cooperation, particularly in the field of information and communication technologies and work together for bridging the digital divide.
Pakistan and the UAE reaffirmed their historical and brotherly ties, rooted in shared religion, culture, values, and pursuit of regional and global peace and security. Both sides expressed satisfaction at the convergence of views on a host of regional and global issues.
Based on their decades-old fraternal ties, both countries expressed solidarity with each other in efforts to preserve their sovereignty and territorial integrity.
With a view to developing tangible and meaningful bilateral cooperation in key areas, the two countries agreed to intensify consultations and coordination in order to strengthen their strategic partnership.
The two sides signed Memoranda of Understanding in the field of combating human trafficking, information exchange, and between the diplomatic academies of both countries.
H.E. Sharif invited His Highness Sheikh Mohamed bin Zayed Al Nahyan to visit Pakistan at a later date, and the invitation was accepted by the UAE leadership.