PM Shehbaz leaves for Geneva to co-host climate conference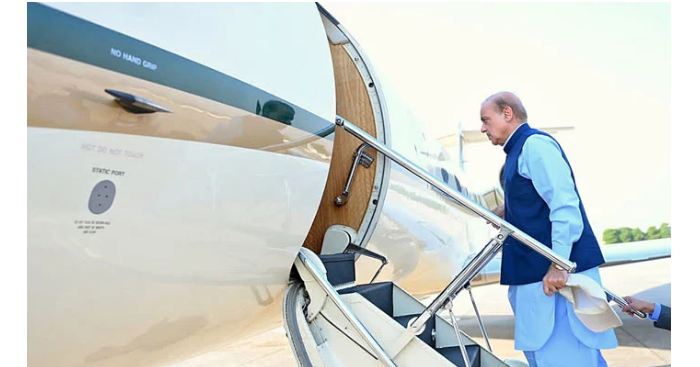 ISLAMABAD, JAN 8: Prime Minister Shehbaz Sharif on Sunday announced his departure to Geneva for the International Conference on Resilient Pakistan which is aimed at marshalling support to rebuild the country after devastating floods.
Taking to Twitter, the prime minister said that he will take the opportunity to present the case of flood victims before the world and throw light on steps the government has taken for relief and rehabilitation.
"We will place a comprehensive post-disaster framework plan for recovery, rehabilitation and reconstruction with resilience before development partners and friendly countries. Bridging the funding gap is key to restoring critical infrastructure, rebuilding lives and livelihoods and reviving the economy," the premier wrote. PM Shehbaz further said that millions of Pakistanis affected by unprecedented devastation look for compassion and solidarity to build back better. Flood-hit Pakistan
Pakistan and the United Nations are holding a major conference in Geneva on Monday that will help mobilise international support to help Pakistan's people and government recover more effectively from the devastation caused by recent floods.
Record monsoon rains and melting glaciers last September displaced some 8 million people and killed at least 1,700 in a catastrophe blamed on climate change.
Most of the waters have now receded but the reconstruction work, estimated at around $16.3 billion, to rebuild millions of homes and thousands of kilometres of roads and railway is just beginning and millions more people may slide into poverty.
Islamabad, whose delegation is led by Prime Minister Shehbaz Sharif, will present a recovery "framework" at the conference where United Nations Secretary General Antonio Guterres and French President Emmanuel Macron are also due to speak.
Guterres, who visited Pakistan in September, has previously described the destruction in the country as "climate carnage".
"This is a pivotal moment for the global community to stand with Pakistan and to commit to a resilient and inclusive recovery from these devastating floods," said Knut Ostby, United Nations' Development Programme's Pakistan Representative.
Additional funding is crucial to Pakistan amid growing concerns about its ability to pay for imports such as energy and food and to meet sovereign debt obligations abroad.
However, it is far from clear where the reconstruction money will come from, especially given difficulties raising funds for the emergency humanitarian phase of the response which is around half funded, according to UN data.
At the COP27 meeting in Egypt in November, Pakistan was at the forefront of efforts that led to the establishment of a "loss and damage" fund to cover climate-related destruction for countries that have contributed less to global warming than wealthy ones.
However, it is not yet known if Pakistan, with a $350 billion economy, will be eligible to tap into that future funding.
Organisers say around 250 people are expected at the event including high-level government officials, private donors and international financial institutions.
Pakistan's ambassador to the UN in Geneva, Khalil Hashmi, said Islamabad was willing to pay for about half of the bill but hoped for support from donors for the rest. "We will be mobilising international support through various means," he said. "We look forward to working with our partners."
An International Monetary Fund (IMF) delegation will meet Pakistan's finance minister on the sidelines of the conference, a spokesperson of the lender said on Sunday, as Pakistan struggles to restart its bailout programme.
The IMF is yet to approve the release of $1.1 billion originally due to be disbursed in November last year, leaving Pakistan with only enough foreign exchange reserves to cover one month's imports.