PM opens Montessori classes in Islamabad school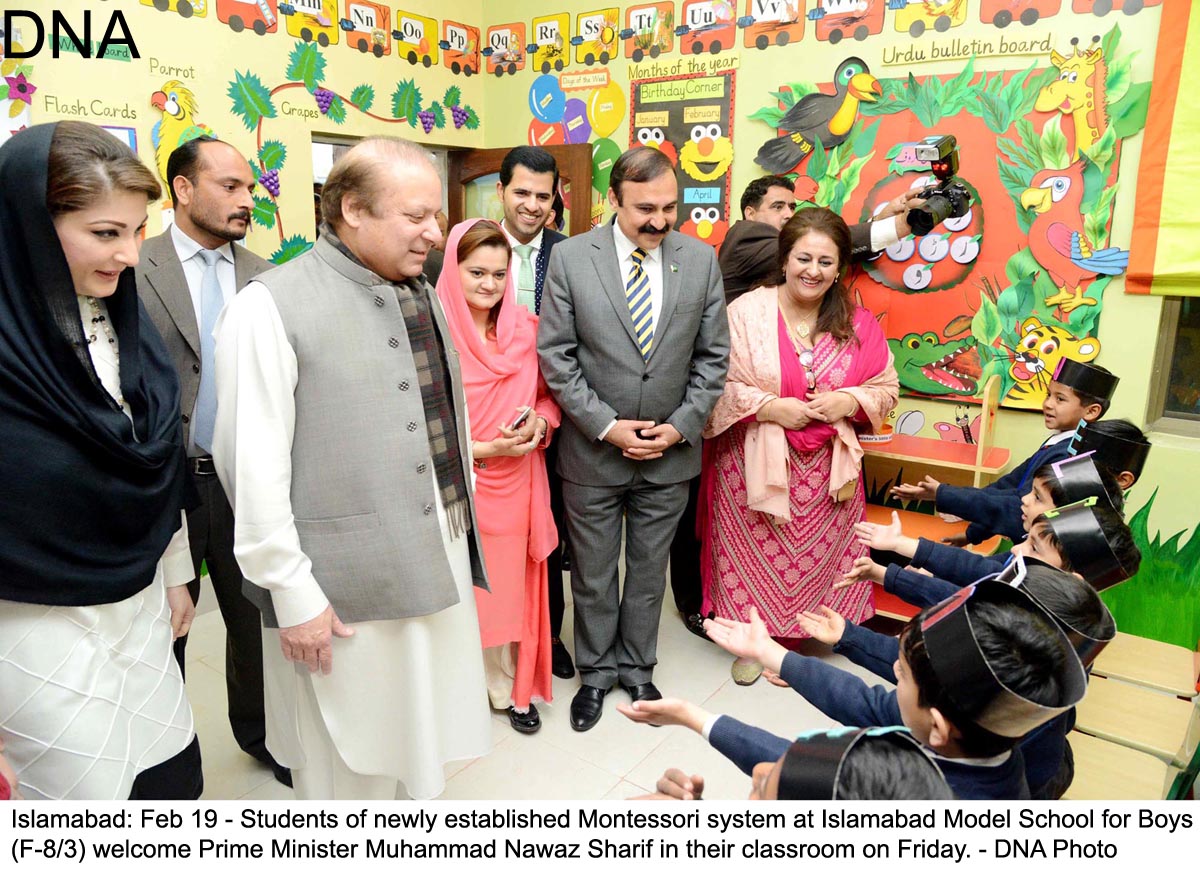 ISLAMABAD, Feb 19 (DNA): Prime Minister Nawaz Sharif on Friday launched first-ever Montessori section of public school in Islamabad.The initiative is part of Prime Minister's Educational Reforms Programme.The Montessori section set-up at Islamabad Model School for Boys, F-8/3, now named Azaan Shah Shaheed School, will provide quality education to toddlers in a friendly environment with full focus on learning of knowledge through playful and colorful activities.
The school is one of the five government educational institutes in the Capital where Montessori sections have been set up in the first phase. Other schools are in sectors F-7, F-10, Sohaan and Khanna Daak.
The PM had interaction with students before addressing launching ceremony of Montessori section classes.
"Our government was focusing on improvement of education and health sectors to ensure prosperity in the country," he said.
"Maximum resources would be diverted to provide upgraded educational and health facilities to the people across the country."
The PM said focus on education was part of the manifesto of Pakistan Muslim League-(N) and emphasized that an improved educational curriculum was vital to help the young generation, excel and make the country proud.
He said terrorism was a serious threat to the country, and added the successful operation had now rooted the menace out to a great extent.
The event was attended by Finance Minister Ishaq Dar, Information Minister Pervaiz Rasheed, State Minister for Capital Administration and Development Division (CADD) Dr Tariq Fazal Chaudhry, State Ministers for Education Balighur Rehman and Information Technology Anousha Rehman.
Prime Minister's daughter Maryam Nawaz Sharif who is spearheading the educational reforms project, was also present.
The upgradation of school is part of a package of improvement of 422 schools and colleges operating under the Federal Directorate of Education, through Prime Minister's Education Reforms Programme.
So far, work on 22 schools has been completed, while the rest of 400 would be carried out during a year in two phases of 200 schools each. =DNA