PM Nawaz vows to revolutionize lives of people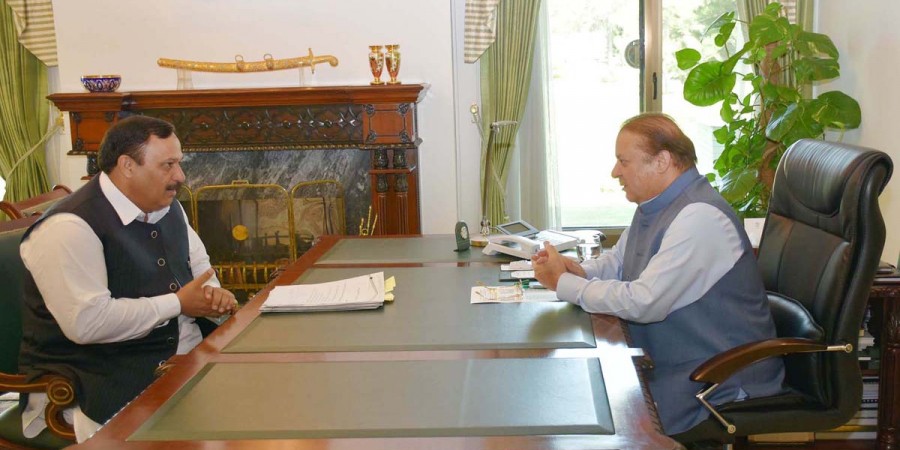 ISLAMABAD, 27 APR (DNA) – Prime Minister Nawaz Sharif on Wednesday vowed that the incumbent government is committed to revolutionize the lives of the people of Pakistan.
"We are proactively pursuing our development and reform agenda and all our energies are focused at improvement in the standard of living of common man.," the Prime Minister Nawaz Sharif stated in a meeting with Mohsin Shahnawaz Ranjha (MNA), Mr Nadeem Abbas Rabaira (MNA) and Malik Ibrar Ahmad (MNA). The Parliamentarians called on the Prime Minister separately in the Prime Minister House, Islamabad.
The Parliamentarians apprised the Prime Minister on the status of ongoing development work and welfare schemes in their respective constituencies. Matters pertaining to public importance as well as political nature were also discussed during the meetings.
The Parliamentarians said that Pakistan's security situation and economy has greatly improved and people are benefitting from the dividends of peace and development. They appreciated the leadership of the Prime Minister for putting the country on development path. The improved security and initiation of massive infrastructure development projects across the country have created a new hope among the people of the country, said the Parliamentarians.
The Parliamentarians said that they are committed under the leadership of the Prime Minister to work for the betterment and uplift of the masses, and enabling the people to exercise their fullest potential for progress and prosperity of the country.
The Prime Minister said that the MNAs should leave no stone unturned in fulfilling their commitments to the people who have reposed their trust and confidence while electing the Parliamentarians. The Prime Minister assured the Members of National Assembly of his fullest support in the execution of all the ongoing as well as future development projects and welfare schemes in their respective constituencies. DNA