PM Nawaz lands in Tajikistan on two-day visit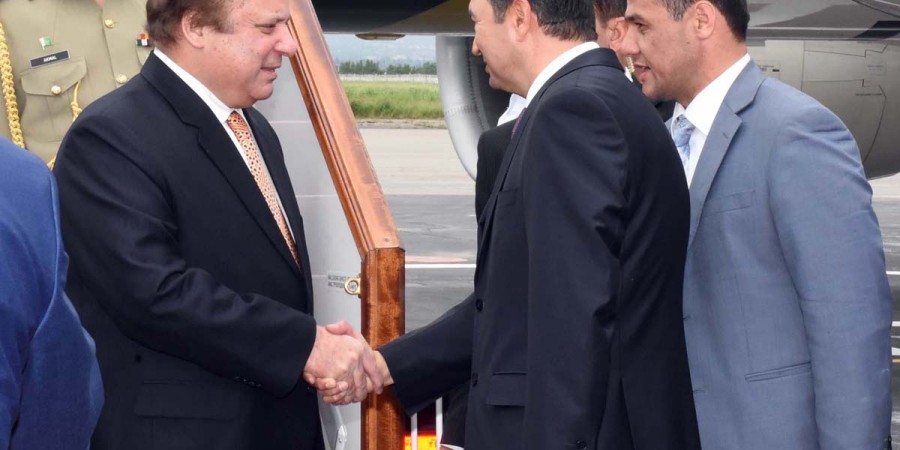 DUSHANBE, 10 MAY (DNA) – Prime Minister (PM) Nawaz Sharif on Wednesday reached Kulob, Tajikistan on a two-day visit to attend the launching ceremony of CASA-1000 Power Project.
PM Nawaz was warmly welcomed by Tajikistan government on his arrival. The PM is accompanied by Khawaja Muhammad Asif, Minister for Water and Power/Defence, Special Assistant to the Prime Minister on Foreign Affairs, Syed Tariq Fatemi, and senior officials.
During the visit, the premier will discuss with Tajik leadership issues of bilateral matters, including trade, energy and defence cooperation. Prime Minister Nawaz Sharif will also exchange views on matters relating to regional and international issues of mutual
The leaders from participating countries and other stakeholders are expected to attend the launching ceremony. Under CASA-1000 Project, Tajikistan and Kyrgyzstan will supply 1000 MW of electricity to Pakistan and 300 MW to Afghanistan during the summer season.
The CASA-1000 Project is a flagship project and the first of its kind that will link Pakistan, Afghanistan, Tajikistan and Kyrgyzstan in electricity grid. The project to be completed by 2018 will go a long way in regional integration.DNA