PM Abbasi visits an operational air base in Sargodha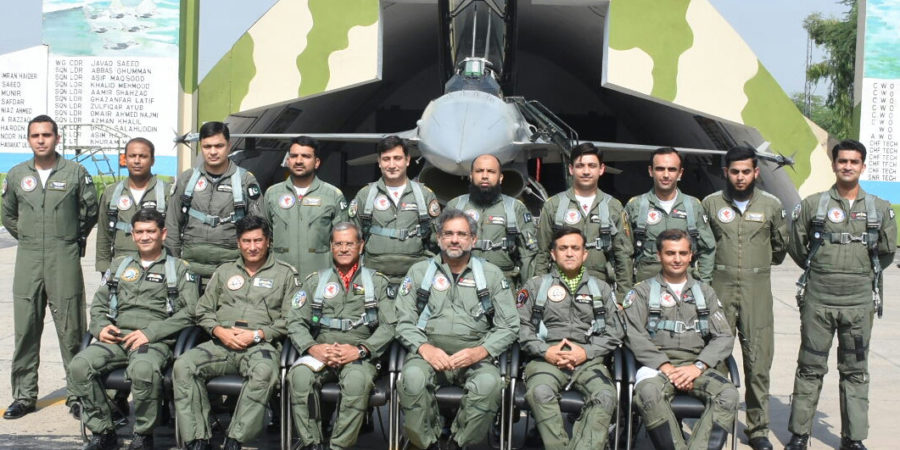 SARGODHA, SEPT 09 (DNA) – Prime Minister Shahid Khaqan Abbasi visited an Operational Air Base of Pakistan Air Force, today.
On his arrival at the Base, he was received by Air Chief Marshal Sohail Aman, Chief of the Air Staff, Pakistan Air Force.
The PM visited newly established Airpower Center of Excellence and attended a briefing on the ongoing exercise Saffron Bandit.
Envisioned by the Air Chief, ACE is a premier institution which has been equipped with state of the art facilities and infrastructure. Besides training the PAF personnel, this institute would also train the combat crew of friendly air forces by conducting multinational, training exercises.
The PM was also informed that the first ever multinational exercise is going to be held in October this year which would be participated by the personnel from 19 air forces.
The Prime Minister was also briefed about PAF contributions in nation building. PAF has started numerous vocational institutions all across the country to create job opportunities for the youth of the country.
PAF's contributions in the field of education were also elaborated wherein various campuses of Air University and Fazaia Medical College have been established in different cities to provide quality education to the young boys and girls.
Moreover, PAF has also established schools for the special education to make them useful members of society.
The Prime Minister took keen interest in the Aviation City project, which has been established in Kamra to bring in an innovative approach in the field of aviation. This city would mainly focus research and development initiatives with the help of industry academia linkage.
During his visit, the Prime Minister also flew an exercise training mission in F-16 aircraft of the elite No 9 multirole squadron. The Air Chief, sitting in another F-16 aircraft also participated in the training mission.
It was the first time in the history of Pakistan that a Prime Minister participated in a flying mission sitting in the rear cockpit of a fighter jet.
After landing back at the Base, the Prime Minister interacted with the combat Air and Ground crew of the squadron.
He expressed his deep satisfaction on the niche attained by the PAF amongst the modern Air Forces of the World. He also appreciated the high morale of the aerial defenders of the country and expressed his satisfaction on the operational readiness of Pakistan Air Force.=DNA
===========