Pleasantly surprised by diverse history of Pakistan: Swiss envoy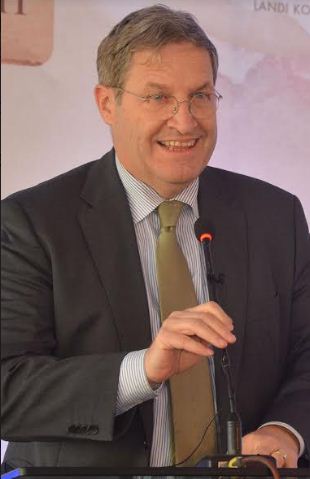 Trade relations between Pakistan and Switzerland are about 600 million USD per annum, which is not a lot considering the size of the Pakistani market. We could do more. It depends very much on the economic framework – political and economic stability, stable exchange rate etc. – and the level playing field for foreign companies
Special Correspondent
ISLAMABAD: Ambassador of Switzerland to Pakistan Benedict de Cerjat in his recent media interview talked about his impressions about Pakistan and various touristic attractions of Pakistan. Besides, the ambassador also talked about trade and economic cooperation between the two countries. Ambassador Benedict de Cerjat hoped trade volume between the two countries will increase. Here is the text of his interview.
Tell us about your experience living in Pakistan so far, Did you like our people, our culture?
I have been pleasantly surprised by the extraordinarily diverse and impressive history of this land. I did not know, for example, that the Indus River Civilization was actually the very first one we can call a civilization. Since my arrival, I have been able – even under COVID restrictions – to visit several interesting places along the Grand Trunk Road: Rawat Fort, Taxila, Swat, etc. Moreover, my Embassy teamed up with UNESCO, the European Union and the World Bank to publish this book by Salman Rashid "From Landi Kotal to Wagah", celebrating the Grand Trunk Road and those who left their mark on the history of Pakistan.
2. Pakistan and Switzerland have signed an agreement on the reciprocal promotion and protection of investments. Tell us more about this agreement?
The Bilateral Investment Treaty between Pakistan and Switzerland has been in force since 1996 and has been pivotal to the increasing attractiveness of Swiss companies to invest in Pakistan. The success of this treaty is evident from the fact- that over the last ten years, Switzerland has been one of the top 5 foreign direct investors in the country with an investment of more than 1 billion USD in Pakistan.
3. How do you see the Pakistani community living in Switzerland?
The Pakistani community in Switzerland is relatively low in numbers, around 3'000 individuals only. They reside throughout the country but predominantly in the German-speaking part of Switzerland- i.e. the cities of Zurich, Basel and Bern. Pakistani citizens are playing a constructive role in the social and economic fabric of our society. The majority of Pakistanis working in Switzerland are in upper management and at senior level positions in all major sectors such as in the banking, insurance, pharmaceutical, engineering, and educational fields in Switzerland.
4. How are the economic relationships between Switzerland and Pakistan?
Trade relations between Pakistan and Switzerland are about 600 million USD per annum, which is not a lot considering the size of the Pakistani market. We could do more. It depends very much on the economic framework – political and economic stability, stable exchange rate etc. – and the level playing field for foreign companies.
5. Switzerland is known as the heaven on earth because of its landscape and mountainous beauty, have you visited our North side? Did you like our landscape and mountainous sites?
 Yes, during my first year in your country, I have visited a few beautiful places in the Northern Areas of Pakistan. Since the Swat Valley is famously called "the Switzerland of Pakistan", I started my journey there and I was not disappointed. I have seen Barikot, Saidu Sharif, Islampur (a great place to buy pashmina shawls!), Bahrain, Kalam, Ushu and Mahodand Lake. I went back in February with a group of European colleagues and we enjoyed some skiing in Malam Jabba. A very nice place! More recently, I was in Chitral and I loved it. The roads are bumpy but it was worth the effort. I was in Garam Chashma (close to the border with Afghanistan) and to the Kalash Valley.