PLA support base in Djibouti pursues peace, cooperation, friendship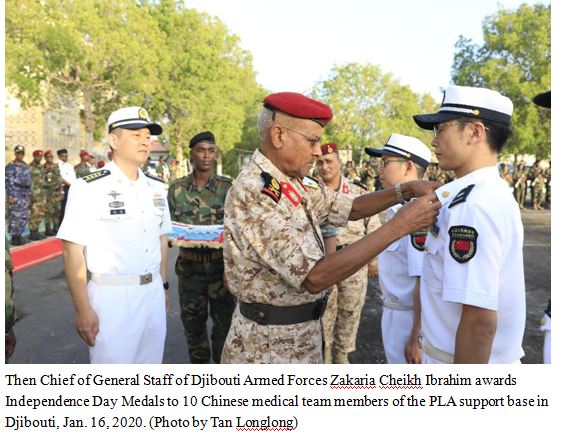 By Zhang Zhiwen, Yan Yunming, Huang Weixin, Hou Lulu, People's Daily
A ceremony marking the entry of troops into the Chinese People's Liberation Army (PLA) support base in Djibouti was held at the base's barracks on August 1, 2017, marking the completion and official operation of the base.
The establishment of the PLA Djibouti base was a decision made by the two countries after friendly negotiations.
In accordance with UN Security Council resolutions, China has deployed vessels to the Gulf of Aden and the waters off the Somali coast on escort missions since 2008. During the process, Chinese officers and men encountered difficulties in replenishing food and fuel, and Djibouti offered logistical support in multiple instances.
The construction of the support base enables China to better fulfill its international obligations such as escorts and humanitarian rescue in the Gulf of Aden and the waters off the Somali coast. It also contributes to the economic and social development of Djibouti and enables China to make new and greater contributions to safeguarding peace and stability in Africa and the world.
Over the past six years, the capabilities of the support base have steadily improved. The base has provided efficient and professional support for escort fleets and Chinese peacekeeping troops deployed to South Sudan, Mali and the Democratic Republic of the Congo. The construction and growth of the support base has strongly aided the Chinese military's escort missions in the Gulf of Aden and peacekeeping operations in Africa, while making prominent contributions to regional peace and stability and safeguarding international maritime channels.
The Chinese support base plays an important role in maintaining regional trade flows, Aboubaker Omar Hadi, chairman of the Djibouti Ports and Free Zones Authority, told People's Daily.
The PLA support base promotes mutual trust and understanding, and conveys a message of peace and friendship.
Since its establishment, the base has held over 10 joint exercises and drills with Djiboutian and other foreign troops in Djibouti. It has also participated in more than 200 bilateral and multilateral exchange activities, and held five multinational basketball and football tournaments. This has continuously advanced bilateral and multilateral exchanges and showcased the open and confident image of the Chinese military.
Since 2019, the PLA Support Base Hospital in Djibouti has partnered with the general hospital of Djibouti's military for paired assistance. So far, China has sent over 100 medical experts to Djibouti, assisted with 45 surgeries there and held a series of bilateral clinical skills training sessions.
The base has become an important platform for medical exchanges, said Feng Dan, a medic who has joined multiple exchange activities. "We are very proud to be doctors at the base," Feng told People's Daily.
Fran, a military doctor at the Djibouti Military Hospital of the Djiboutian Republican Guard, said that China's long-term medical assistance is important for Djibouti and it is hoped that there will be further exchanges with the Chinese side to improve local medical capabilities.
Li Zhaohui, head of the PLA support base, noted that the base hopes to strengthen its communication with Djibouti and foreign troops in Djibouti, constantly enhance practical cooperation with them, fulfill China's international obligations, and work together with them to cope with security threats and challenges, so as to make greater contributions to regional peace and stability.
Teenagers are the future of Djibouti's economic and social development, as well as the hope for the continuous friendship between China and Djibouti. In order to improve the teaching conditions in local schools, the support base has established a regular education assistance mechanism with Djibouti, which conducts public welfare assistance activities.
In January this year, the support base donated computers, projectors, desks and chairs, sports equipment and stationery to three primary schools in the Balbala district of Djibouti City. It was the support base's third round of public welfare assistance to local schools.
"The new desks, chairs, and equipment have made our school more beautiful," said Hassan, a student at the PK12 Primary School in Djibouti City, carrying his new blue backpack with a happy smile on his face.
Minister of National Education and Vocational Training of Djibouti Moustapha Mohamed Mahamoud said that with the help of the PLA support base, the teaching environment of local schools has been improved, providing children with better conditions for growth.
"I'm grateful to Chinese doctors and nurses," said Mohamed Ali Ahmed, a 66-year-old man from Djibouti, who had his cataract cured at the PLA support base after having had the problem for six years.
In December 2019, the support base kicked off a 25-day medical campaign in cooperation with Djibouti's Ministry of Health, which offered free cataract surgery for over 100 local patients including Ahmed. The campaign received widespread praise from the local community.
Ten medical staff members of the support base were awarded with the Independence Day Medal signed by President Ismail Omar Guelleh of Djibouti.
Saleh Banoita Tourab, then secretary-general of the Ministry of Health in Djibouti, noted that the Chinese military doctors have brought great relief to local cataract patients, and their act of compassion will be forever remembered by the people of Djibouti.
In 2019, Djibouti experienced a rare heavy rainfall, which caused flooding and resulted in casualties. In response to Djibouti's request, the PLA support base dispatched troops to provide assistance to the affected population, and thousands of people received timely help.
Idle, a resident of Djibouti, and his family and friends were severely affected by the flood. "The house of a friend of mine was almost swallowed by the flood, and we felt desperate," he said. Fortunately, Chinese soldiers arrived and helped them with drainage and dredging. "We are grateful to the Chinese military," Idle said.
Since its establishment, the support base has been committed to assisting in the local economic and social development of Djibouti through various initiatives such as public welfare education, medical services, and disaster relief. These practical actions have earned widespread praise from the government and people of Djibouti.
"When I first arrived in Djibouti in 2018, there were few locals who could speak Chinese," said Zhang Daqian, a PLA officer who has been stationed at the base for five years. He told People's Daily that whenever the soldiers go out on missions nowadays, local people would warmly greet them in Chinese and give thumbs-up to them.
"This change is a testament to the unwavering dedication of Chinese soldiers who have been serving the local community. It inspires us and motivates us to continue our efforts," Zhang said.