PM Nawaz inaugurates PIA Premier at Islamabad Airport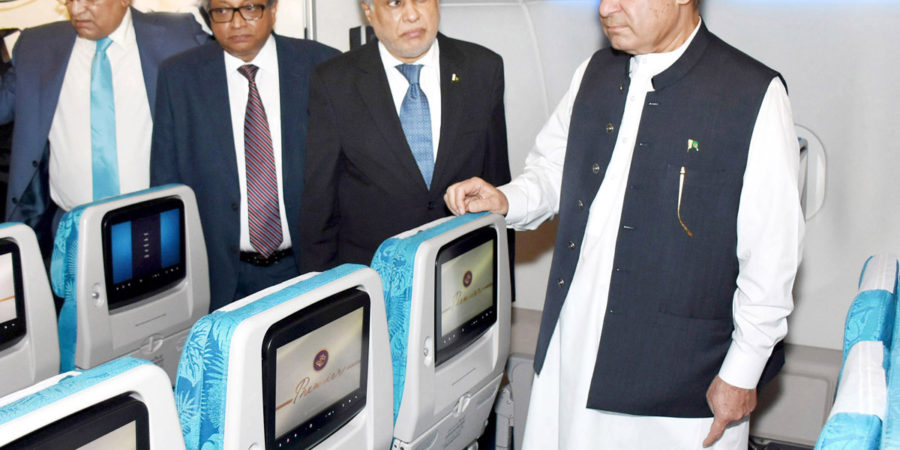 ISLAMABAD, 04 AUG, (DNA) – Prime Minister Nawaz Sharif on Sunday inaugurated PIA Premier, the luxury air service of Pakistan International Airlines, giving a major facelift to the national flag carrier.
The prime minister saw off passengers for the inaugural flight PK-785 to London at the Benazir Bhutto International Airport – an event which coincided with Pakistan's 70th Independence Day.
The Prime Minister took a round of the aircraft, met passengers and appreciated the quality of services on offer.
The cabin crew onboard was attired in new designer burgundy-maroon coloured uniforms with green scarves for women and men were in navy blue suits with green ties.
Earlier, the PIA CEO Bern Hildenbrand, in a briefing to the Prime Minister, said the project with new aircraft would be a "future gateway" for the PIA's financial success.
"With a hospitable crew, good food and excellent service, this is something we can compete with the world," added Hildenbrand.
He mentioned the cooperation of Sri Lankan Airlines and the collective team work of PIA's management which helped in the launch of the quality air service in short time, under the directive of the premier.
PIA Premier Service Launched by Prime Minister Muhammad Nawaz Sharif today. #BrandNawazSharif pic.twitter.com/bMSuqav0uZ

— PML(N) (@pmln_org) August 14, 2016
Later, Sri Lankan Minister Hashim Kabir told APP that the launch of PIA Premier was a "symbolic moment of friendship" for Pakistan and Sri Lanka to intensify their close relationship in terms of trade, economy and culture.
He termed the project a mutually beneficial agreement between the two countries, and also recalled the visit of Prime Minister Nawaz Sharif to Colombo this January, which he said helped boost the economic relationship.
Chairman Sri Lankan Air Lines Ajith Dias in an interaction with APP said PIA had acquired on wet-lease three A-330 aircraft from Sri Lankan Airlines, with a fourth aircraft due to join the fleet in near future.
"Sri Lankan Airlines was delighted to be part of this project and would be providing a three-month long training course to PIA Premier pilots and cabin crew," said Dias.
Dias said Sri Lankan Airlines would also closely work with PIA in future projects including code shared flights and sharing of engineering services.
The aircraft, in brand new condition, are aimed at giving passengers a better experience, allowing PIA to start regaining its market share, he added.
There will be six weekly Premier service flights to London, three each from Islamabad and Lahore. Later, with addition of more aircraft, the service would be expanded to other destinations.
The aircraft is equipped with LCD screens and inflight entertainment with 250 channels on offer along with flatbed service for business-class passengers.
A complimentary limousine service for PIA Premier business-class passengers will be given upon their arrival at Heathrow Airport. The service will be available within a radius of 25 km from Heathrow Airport. =DNA