PIA, Etihad Airways announce new codeshare agreement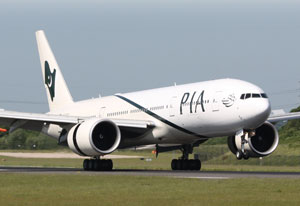 KARACHI, 29 JUNE (DNA) – Pakistan International Airlines (PIA) and Etihad Airways have signed a code-share agreement which will provide travelers with enhanced connections between the United Arab Emirates, Pakistan, and beyond.
Etihad Airways will place its EY code on PIA flights between Islamabad, Karachi, Lahore, Peshawar and Abu Dhabi.
In return, PIA's PK code will be placed on Etihad Airways' flights between Abu Dhabi and Islamabad, Karachi, and Lahore and PK code will also be added to Etihad Airways' flights from Abu Dhabi to many of the global destinations operated by Etihad Airways.
Flights can be booked from 30 June 2015 via travel agents or through the airlines' sales offices and contact centers. The first travel date will be 27July 2015. This will help facilitate Pakistani travelers with a choice of travelling to more than 70 destinations.
Khurram Mushtaq, Director Marketing of Pakistan International Airlines, said: "This is indeed a great opportunity for PIA to join hands with Etihad Airways, connecting Pakistan to UAE and around the globe, expanding reach to more destinations for the convenience of valued passengers."
Kevin Knight, Etihad Airways' Chief Strategy and Planning Officer, said: "Our unique partner strategy has been highly successful and we are pleased to add Pakistan International Airlines to our growing list of successful code share partners.
"There is a long and proud history of travel between Abu Dhabi and cities across Pakistan, and this new code-share agreement – between the national airlines of the UAE and Pakistan – will make that experience, as well as travel onwards to Africa, Europe, and the United States, that much easier."
Etihad Airways and PIA are also exploring options to offer members of their respective frequent flyer programs, Etihad Guest and Awards+Plus, reciprocal earn and burn for miles when using codeshare flights. DNA