PEMRA destroys illegal India DTH materials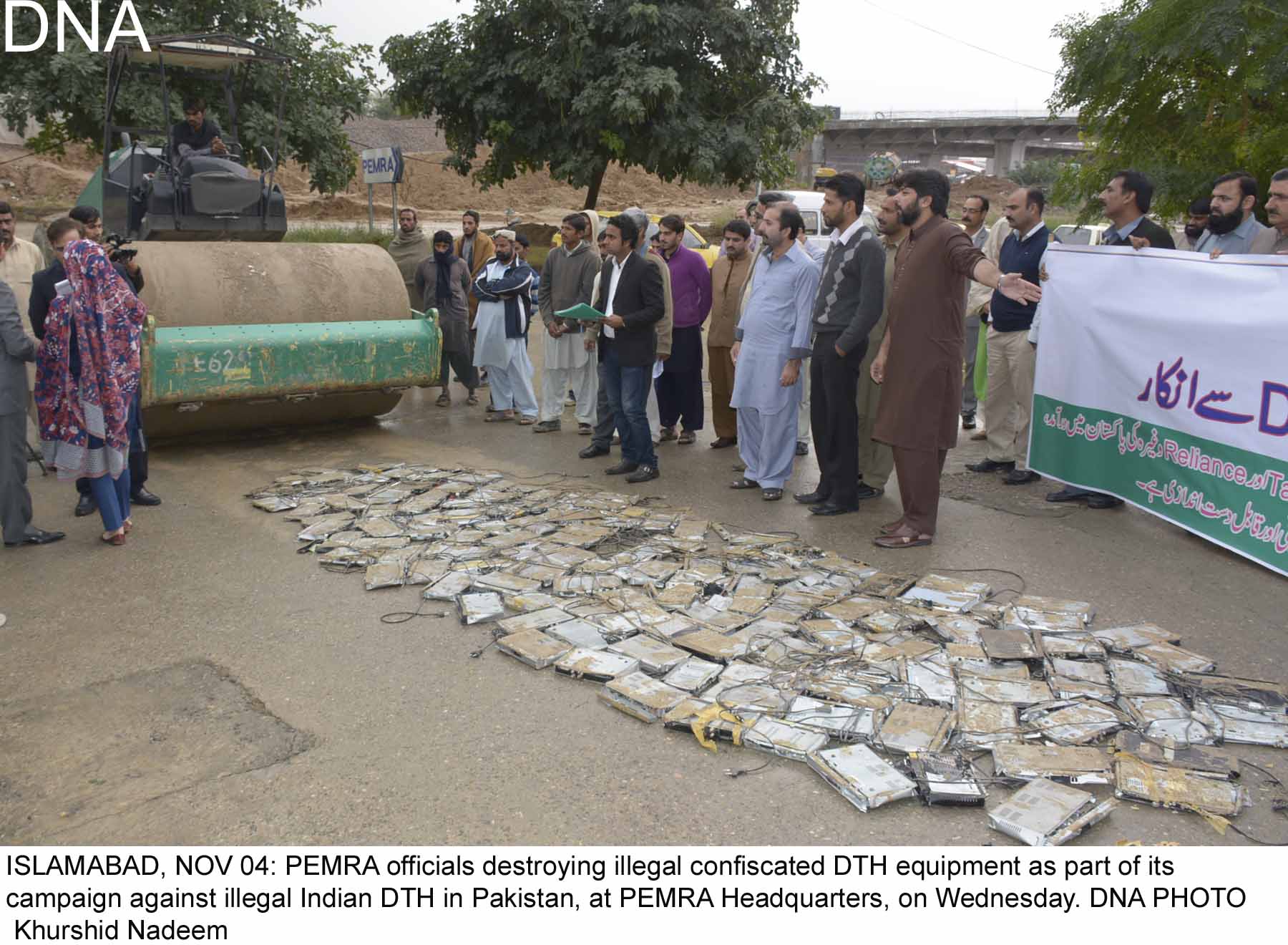 ISLAMABAD, NOV 04 (DNA) -Pakistan Electronic Media Regulatory Authority (PEMRA) in a bid to curb the menace of illegal Indian DTH proliferating in Pakistan, held ceremony to destroy / bulldoze more than 500 illegal Indian DTH decoders confiscated by the Regional Office Islamabad during crackdowns against Cable TV Operators of Rawalpindi, Chakwal, Jehlum and Attock.The ceremony was held at PEMRA Head Office at Islamabad today. Chairperson Council of Complaints Islamabad, Ms. Shamim Humayun was also present in the ceremony.
In recent drive during last one month, PEMRA enforcement teams have confiscated about 2,500 illegal DTH decoders across the country. Similar ceremonies to bulldoze/destroy those equipments will be held at Karachi and Lahore during this November.
Mr. Wakeel Khan Director General (Licensing) PEMRA briefing the media told that the crackdown has been launched against cable TV operators providing cable TV services by using signal of illegal Indian DTH in violation of PEMRA laws.
According to an estimate, more than two million illegal Indian DTH decoders of Dish TV, TATA SKY, Airtel,VideoCon, SunBig, Reliance etc. have been smuggled into Pakistan which is illegally laundering money worth US$ 200 million per annum outside Pakistan putting a colossal loss to national economy. Besides, these illegal DTH are also a source of distribution of illegal & unlicensed channels in Pakistan in violation of PEMRA Laws. He said that availability of illegal DTH is also a potential threat to future investors in Pakistan.
He further added that PEMRA has already initiated process for award of Pakistani DTH by advertising in print media. The last date for submission of applications is November 6, 2015. The bidding for the award of three DTH licenses would be conducted on 7th December, 2015.
It may be mentioned that DTH is a digital satellite distribution platform for delivery of television channels directly to viewers / end users without the need for any intermediary.
The service is state of the art in broadcasting & distribution technologies and it has a number of advantages including enhanced channel carrying capacity, better quality of picture & sound, value added services such EPG (electronic program guide), parental control, VOD (video on demand), Push, VoD, PVR (personal video recorder), time scheduling etc.
Initiation of this digital medium would help in creating jobs for thousands of people besides injecting investment of billions of rupees in the country's economy. As a result of DTH PEMRA also foresee licensing of more local and foreign TV channels. =DNA
===============