Peace in Karachi: govt and army need acknowledgement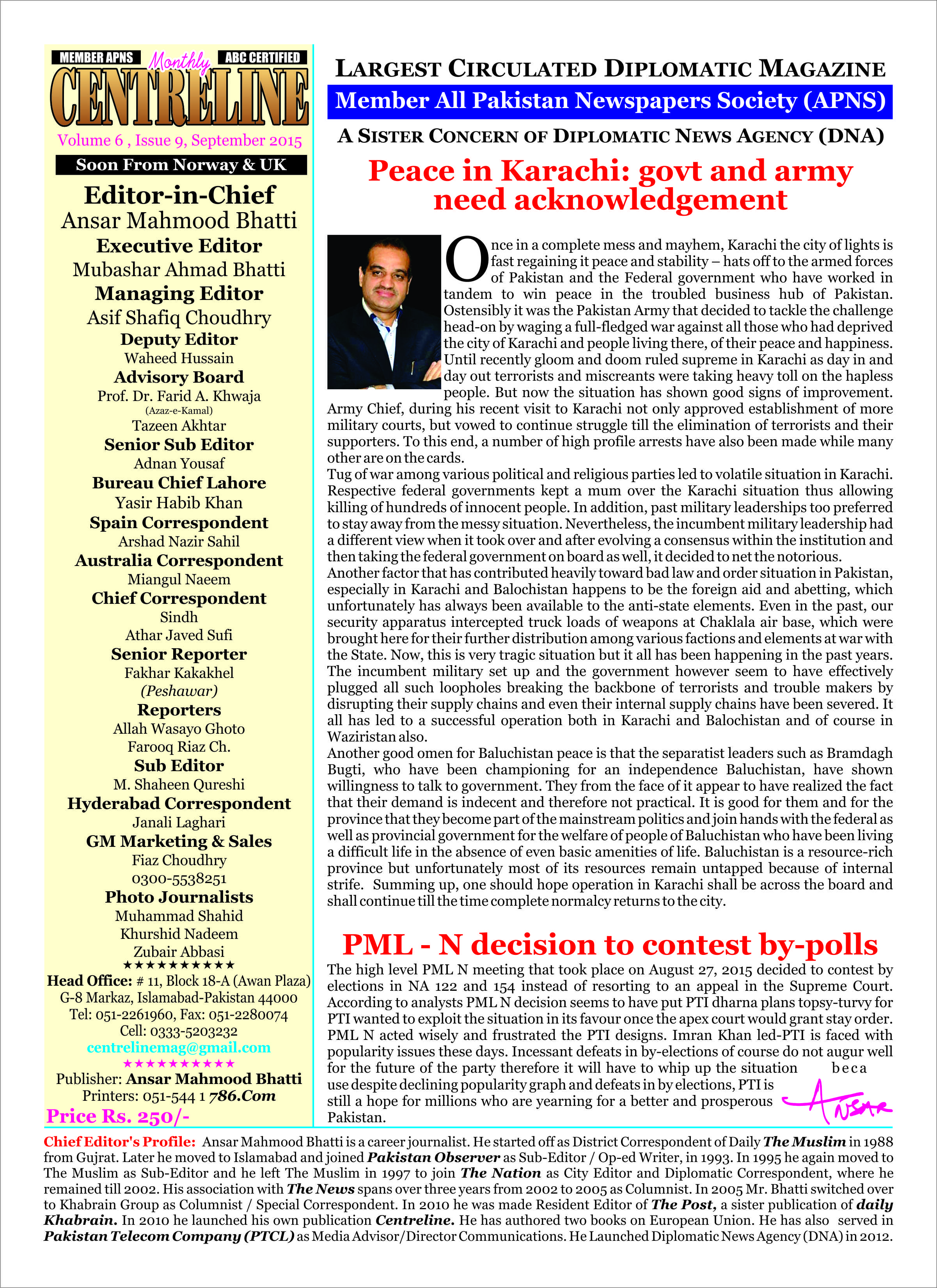 ANSAR MAHMOOD BHATTI
Once in a complete mess and mayhem, Karachi the city of lights is fast regaining it peace and stability – hats off to the armed forces of Pakistan and the Federal government who have worked in tandem to win peace in the troubled business hub of Pakistan. Ostensibly it was the Pakistan Army that decided to tackle the challenge head-on by waging a full-fledged war against all those who had deprived the city of Karachi and people living there, of their peace and happiness. Until recently gloom and doom ruled supreme in Karachi as day in and day out terrorists and miscreants were taking heavy toll on the hapless people. But now the situation has shown good signs of improvement. Army Chief, during his recent visit to Karachi not only approved establishment of more military courts, but vowed to continue struggle till the elimination of terrorists and their supporters. To this end, a number of high profile arrests have also been made while many other are on the cards.
Tug of war among various political and religious parties led to volatile situation in Karachi. Respective federal governments kept a mum over the Karachi situation thus allowing killing of hundreds of innocent people. In addition, past military leaderships too preferred to stay away from the messy situation. Nevertheless, the incumbent military leadership had a different view when it took over and after evolving a consensus within the institution and then taking the federal government on board as well, it decided to net the notorious.
Another factor that has contributed heavily toward bad law and order situation in Pakistan, especially in Karachi and Balochistan happens to be the foreign aid and abetting, which unfortunately has always been available to the anti-state elements. Even in the past, our security apparatus intercepted truck loads of weapons at Chaklala air base, which were brought here for their further distribution among various factions and elements at war with the State. Now, this is very tragic situation but it all has been happening in the past years. The incumbent military set up and the government however seem to have effectively plugged all such loopholes breaking the backbone of terrorists and trouble makers by disrupting their supply chains and even their internal supply chains have been severed. It all has led to a successful operation both in Karachi and Balochistan and of course in Waziristan also.
Another good omen for Baluchistan peace is that the separatist leaders such as Bramdagh Bugti, who have been championing for an independence Baluchistan, have shown willingness to talk to government. They from the face of it appear to have realized the fact that their demand is indecent and therefore not practical. It is good for them and for the province that they become part of the mainstream politics and join hands with the federal as well as provincial government for the welfare of people of Baluchistan who have been living a difficult life in the absence of even basic amenities of life. Baluchistan is a resource-rich province but unfortunately most of its resources remain untapped because of internal strife. Summing up, one should hope operation in Karachi shall be across the board and shall continue till the time complete normalcy returns to the city.
PML – N decision to contest by-polls
The high level PML N meeting that took place on August 27, 2015 decided to contest by elections in NA 122 and 154 instead of resorting to an appeal in the Supreme Court. According to analysts PML N decision seems to have put PTI dharna plans topsy-turvy for PTI wanted to exploit the situation in its favour once the apex court would grant stay order. PML N acted wisely and frustrated the PTI designs. Imran Khan led-PTI is faced with popularity issues these days. Incessant defeats in by-elections of course do not augur well for the future of the party therefore it will have to whip up the situation because despite declining popularity graph and defeats in by elections, PTI is still a hope for millions who are yearning for a better and prosperous Pakistan.