PDM Alliance Govt should leave the rule to face public wrath: Qureshi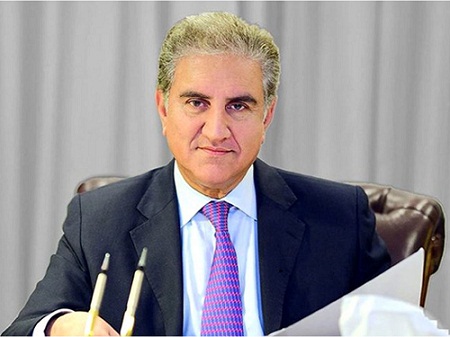 FROM QAZI SHOAIB KHAN
DNA
ATTOCK (MARCH-05): Vice Chairman Pakistan Tehreek Insaaf Shah Mahmood Qureshi while talking to the media on Sunday said that PDM Alliance Government should leave the rule to face public wrath and popularity of PTI leadership led by Imran Khan who has wisdom to steer the country from the prevailing economic crisis after coming into power with overwhelming majority in the forthcoming general elections.
Lashing out the political engineering of the rulers, Shah Mahmood Qureshi said that the imported alliance government of PML(N) dragged the country at the verge of collapse besides creating miserable inflation for the common people. He said that the entire nation is stood by the PTI leadership Imran Khan to get liberation from slavery besides making dignified and a self-respectableforeign policy of Pakistan. Earlier, Shah Mehmood Qureshialso addressedto PTI workers here at Al-Murtaza House Attock. On this occasion, he was also extended warm welcome by a large number of PTI workers and office bearers include hiselder son Zain Qureshi, daughter MNA candidate Mst.
MeharbanoQureshi, PTI district president Attock Qazi Ahmed Akbar, former provincial minister Punjab Syed Yawar Abbas Bokhari, Bgr. ( R) Asim Nawaz, ex-MPA Fatehjang Sardar Mohammad Ali Khan, Sardar Mumtaz Khan Majia, Mr. Akbar Khan Tanoli, Malik Ahmed Nawaz, Member Cantonment Board Attock Syed Mehdi Shah, Syed Sakhi Shah who expressed their complete solidarity with Shah Mehmood Qureshi after his release from Attock Jail.
Addressing the participants, Shah Mehmood Qureshi also passed thanksgiving remarks to all the participants saying that his political will power was further strengthened during his solitary confinement of 10 days 10 nights with the moral support his leader Imran Khan. Hechallenged PML(N) supremo Mian Nawaz Sharif to come back and face the wrath of the public which was plunged into a worst inflation storm arisen due to their ineffective and misdeeds. He reiterated the stance of PTI leadership Imran Khan with the commitment to visit Sind province and announce health cards program for the health care facilities of the people of Sindh after coming into power.
Meanwhile, PTI former provincial minister Punjab Syed Yawar Abbas Bokhari and District President PTI candidate for MPA Attock Qazi Ahmed Akbar in their speeches also condemned the anti-democratic policies of imposed government saying that the present rulers had looted the people of the country for their personal gains who were manipulating to get the elections delayed through political engineering as they were afraid of their defeat in the elections to over their own corrupt practices. They had tried to get implicated their leader Imran Khan by registering 70 self-fabricated FIRs who was facing their atrocities for want of his people. They stressed upon the care taker set up to conduct the elections within 90 days in pursuance of the Article 224 of the Constitution of Islamic Republic of Pakistan and recent order of the Hon,able Supreme Court of Pakistan issued on its sou moto notice. They also expressed their hope that Supreme Court of Pakistan would definitely prevail to initiate the election process if the government failed to fulfil its constitutional commitments.
QAZI SHOAIB KHAN, BUREAU CHIEF, DISTRICT ATTOCK