Parvez Elahi produced in Lahore court in 'illegal recruitment case'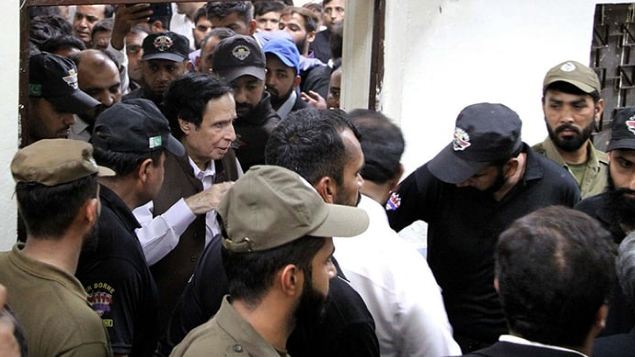 LAHORE, JUN 4: Pakistan Tehreek-e-Insaf (PTI) President Chaudhry Parvez Elahi — who is currently under arrest for allegedly making illegal appointments in Punjab Assembly — was presented in a Lahore court amid strict security today (Sunday).
The Punjab Anti-Corruption Establishment (ACE) arrested the former chief minister for a third time on Saturday, after a local court in Gujranwala granted him relief in two corruption cases.
Today, the ACE officials produced Elahi in a district kacheri court in the provincial capital, while Rana Intezar, who is the president of the Lahore Bar Association, represented him at the hearing.
The illegal recruitment case
According to the details provided by an ACE spokesperson, Elahi made 12 illegal recruitments in Punjab Assembly on grade 17 positions.
The candidates were recruited in the provincial assembly by altering the records. "The illegal recruitments were made through fake testing services," said the spokesperson.
He said that the investigation by the ACE proved that fake recruitments were made in Punjab Assembly, adding that the anti-corruption has also arrested Secretary Rai Mumtaz Hussain in connection with this case on the basis of evidence.
"Rai Mumtaz was involved in fake recruiting process with Parvez Elahi," he said.
Elahi's arrest saga
It may be noted that Elahi was initially arrested on Thursday (June 1) from outside his residence in a Rs70 million graft case related to the embezzlement of development funds allocated for the Gujrat district.
After a district court in Lahore ordered his release on Friday, the PTI president was arrested again in a corruption case registered against him in Gujranwala by Punjab ACE.
He was then presented before a court in Gujranwala on Saturday, which later discharged him in the two corruption cases registered in the district's anti-corruption police station for allegedly taking kickbacks in the development funds allocated for the construction of roads in Gujrat.
However, he was re-arrested by anti-corruption personnel minutes later, in a case registered against him for the alleged illegal recruitment in the Punjab Assembly when he was the speaker.