Palestine President Mahmoud Abbas thanks PM Imran Khan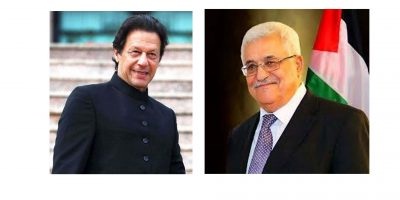 'We highly appreciate your adherence to your positions in support of the Palestine people'
A.m.bhatti
Islamabad: The President of State of Palestine and President of the Executive Committee of Palestine Liberation Organisation (PLO) Mahmoud Abbas has thanked Prime Minister of Pakistan Imran Khan for extending whole-hearted supported to Palestine.
In a letter written to the Prime Minister of Pakistan, President Mahmoud Abbas referred to the recent speech of PM Imran Khan on the national hook-up in which he had categorically stated that Pakistan will not recognize Israel.
President Abbas said, "we highly appreciate your adherence to your positions in support of the Palestine people to obtain their legitimate rights, despite the pressures that your are subjected to, which confirms your courage, originality and the strength of your resolve and your commitment to support the causes of peoples demanding justice".
President Abbas wished the Prime Minister good health, happiness and continued progress of Pakistan.