Palestine embassy hoists flag at half mast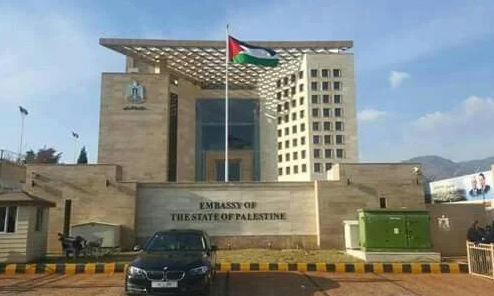 DNA
ISLAMABAD: The Embassy of the State of Palestine, Islamabad Pakistan hoisted the flag at half mast according to the declaration of Mahmoud Abbas, President of the State of Palestine, today, Friday, November 18, 2022, a national day of mourning in which flags are flown at all Palestinian official institutions, mourning the lives of the victims of the unfortunate fire incident in a house in Jabalia, Palestinian Refugee Camp in the northern Gaza Strip, which resulted in the death of an entire family consisting of 21 people.
The unfortunate accident was the result of a fire in the family's stock of fuel to operate the electricity generator, which has become a necessity for every home in the Gaza Strip to overcome the crisis of power outages of about 16 hours per day as a result of the unjust Israeli blockade imposed on the Palestinian people in the Gaza Strip for the long period of time which is more than 17 years, which prevents the availability of fuel supplies on a regular basis, the power plant and the entry of materials necessary for the maintenance of electricity transmission and distribution networks.
These humanitarian issues and much of the daily suffering of the Palestinian people cry out to the international community to stand up to its moral and legal responsibilities by taking all legal and political measures to end the Israeli occupation of the lands of the State of Palestine and to stop the racist occupation practices that deprive the Palestinian people of their most basic human needs to live in dignity on the land of their homeland inherited for thousands years.