Pakistan's journey is for peace, security, prosperity: Masood Khan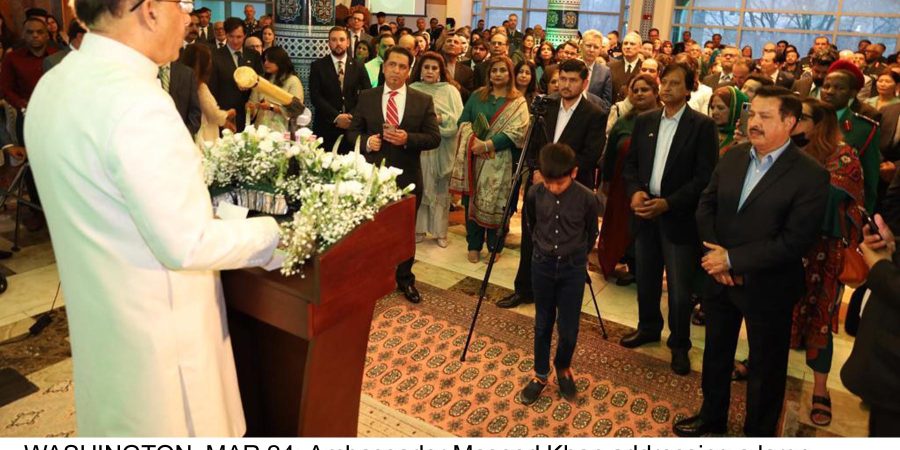 WASHINGTON, MAR 24 (DNA) — Pakistan's Ambassador to the United States Masood Khan says we are a resilient nation and it is our resolve to continue making strides towards crafting a bright future and destiny of the people of Pakistan.
He stated this while addressing a large gathering on the occasion of celebration of Pakistan Day at Embassy of Pakistan in Washington DC. Reiterating vision of the Founding Father of Pakistan, he said that Pakistan's journey is for peace, security and prosperity.
Ambassador Masood Khan paid a glowing tribute to the forefathers and Founder of the Nation for a 'miraculous' struggle in transforming vision of a separate homeland into reality. He expressed hope that one day people of Indian illegally occupied Jammu and Kashmir will also be able to realize their right to self-determination.
Masood Khan thanked the government and the people of United States for always standing beside the people of Pakistan since independence. He said that Pak-US relationship has been resilient and is based on principles of reciprocity and friendship.
Thanking United States for its assistance towards girls' education and women empowerment, Masood Khan said that Pakistan attaches the highest importance to the recognition and promotion of the education of girls and women in any part of that region and in any part of the globe.
He also paid glowing tributes to vibrant and dynamic Pakistani community in the United States for their valuable contributions toward socio-economic progress of both Pakistan and the United States. The Ambassador also thanked US House of Representatives and State Assemblies for recognizing Pakistan Day and also acknowledging the contributions of Pakistani-American community.
Director of the Office of Foreign Assistance Dr Dafna Rand, speaking on behalf of US Secretary of State, conveyed greetings to Pakistani nation on national day. She said last fall we celebrated 75 years of anniversary of our diplomatic relationship and looking back one sees the strength of this relationship right here in the room.
She said we want to strengthen climate smart agriculture and to assist all Pakistanis in making critical investments in areas such as economic growth and restoration of damaged infrastructure.
Dr Dafna Rand said we will explore how we can most effectively bring the private sector in public diplomacy, technical cooperation, public private partnerships, exports, imports and trade. — DNA