Pakistan values its ties with Nepal Sartaj Aziz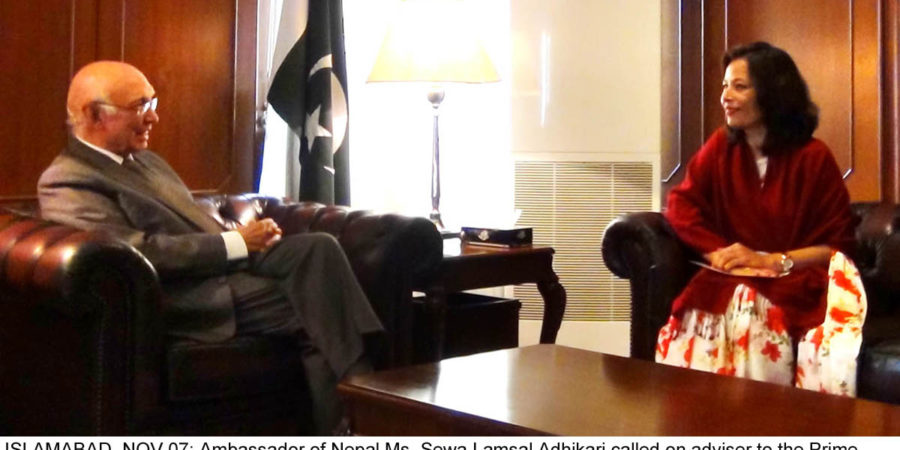 ISLAMABAD, NOV 07 (DNA) -Ms. Sewa Lamsal Adhikari, Ambassador of Nepal called on Mr. Sartaj Aziz, Adviser to the Prime Minister on Foreign Affairs on Monday at the Ministry of Foreign Affairs.
The discussions covered Pakistan-Nepal bilateral relations and the regional situation.
In the meeting, the Adviser highlighted that Pakistan greatly values its relations with Nepal. The warmth of relationship is amply reflective in the exchanges at the political level and close cooperation at the regional and international fora.
The Adviser noted that the relations between Pakistan and Nepal are marked by mutual understanding and commonality of interests and expressed hope that that during the tenure of the newly appointed Ambassador, our already cordial and brotherly relations would further strengthen.
The Adviser also highlighted the continued Indian atrocities in Indian occupied Jammu and Kashmir.
The Ambassador reciprocated the warm sentiments and expressed satisfaction over the growth in bilateral relations and hoped to further increase the momentum. She also conveyed Nepal's condolences on the tragic loss of life during the recent terrorist attack in Quetta.
The Adviser wished peace and prosperity for the brotherly people of Nepal.=DNA
==============