Pakistan, US agree to stay engaged as PM Abbasi meets Mike Pence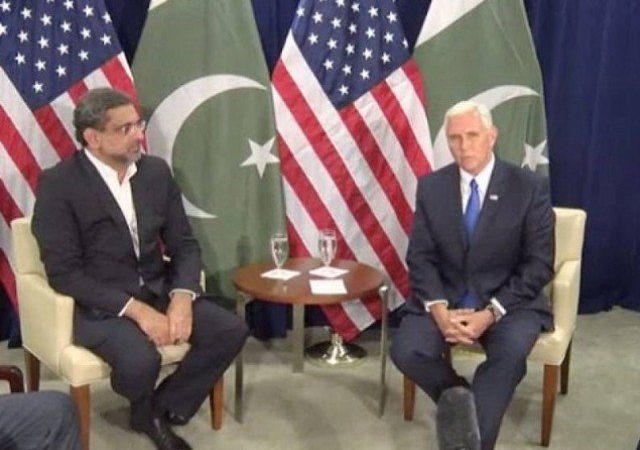 NEW YORK, SEPT 20 (DNA) – Pakistan and the United States have agreed to stay engaged with a constructive approach to achieve shared objectives of peace, stability and economic prosperity in the region.
The consensus was reached during a meeting between Prime Minister Shahid Khaqan Abbasi and US Vice President Mike Pence on the sidelines of UN General Assembly session in New York on Wednesday. Both sides discussed issues relating to bilateral relationships as well as the peace and stability in Afghanistan and the entire region. PM Abbasi shared Pakistan's concerns and views with regard to the US strategy for South Asia.
"It was a good meeting," Foreign Secretary Tehmina Janjua told reporters after 45-minute long meeting between PM Abbasi and Pence that United States had requested.
Responding to questions, she termed the progress made at the  meeting as an 'ice-breaker'. She said it was agreed that the United States would send a delegation to Pakistan in October to continue the talks, a move that analysts saw as a positive development.
It was the first high-level contact between the two countries, after the announcement of the new US strategy by President Donald Trump on Afghanistan and South Asia, that carried a series of unfounded charges against Pakistan for not doing enough in its fight against terrorism.
Earlier in their opening remarks, the US vice president greeted PM Abbasi on behalf of President Donald Trump. He recalled the new strategy articulated by Trump on South Asia and said the United States valued its relationship with Pakistan, a long term partnership for for security in the region.