Pakistan to export more seafood, agro products through KKH to Chinese market: Envoy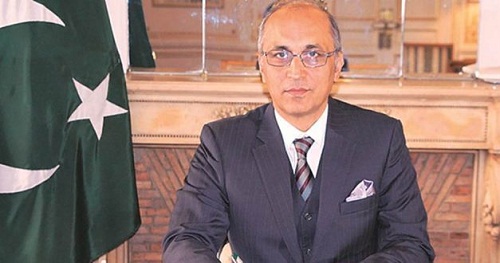 Pakistan to export more seafood, agro products through KKH to Chinese market: Envoy
BEIJING, JUN 04 (DNA) — Pakistan's Ambassador to China Moin-ul-Haque said Pakistani and Chinese governments are making joint efforts to bring more Pakistani seafood and agro products through Karakoram Highway to the Chinese market.
He stated this while commenting on Pakistan's first-ever land containerized seafood cargo which successfully arrived in Xinjiang through Karakoram Highway. "We are working together to bring more Pakistani seafood and agro products through this land route to the Chinese market," he said.
As the world's second-largest consumer market, China embraces more high-quality Pakistani products exported to it. Ambassador Haque said that facilitating trade and exports of Pakistan's high-quality products through the Khunjerab border was Pakistan and China's shared objective.
Last week, a truck loaded with cold chain containers from Pakistan arrived at Kashgar city in Northeast China's Xinjiang Uygur Autonomous Region via a cross-border land route.
This is the first time that seafood containers from Pakistan have been transported by road from Karachi to Kashgar city along the China-Pakistan Economic Corridor (CPEC), a flagship project of the Belt and Road Initiative (BRI).
According to a representative from the Pakistani transport company, it was the first attempt at a bilateral cross-border road transport business in partnership with a Chinese firm.
"The cost and price of cold chain transport of the route is under assessment, our Chinese partners are also exploring more opportunities to import more commodities from Pakistan," he added. The representative noted that the shipment cost by truck was far below that of air transport, and had simpler customs clearance procedures.
In addition, shipment by road shortens transport time to eight days, which is suitable for small-scale and point-to-point logistics, while the sea transport from Karachi Port to Yangshan Port in Shanghai takes nearly a month.
According to the report, the container truck entered China via the Karakoram Highway, the only land route linking Pakistan with China, undergoing customs check at the Khunjerab Port, the world's highest port. — DNA