Pakistan to continue assisting quake-affected people of Turkiye, Syria: PM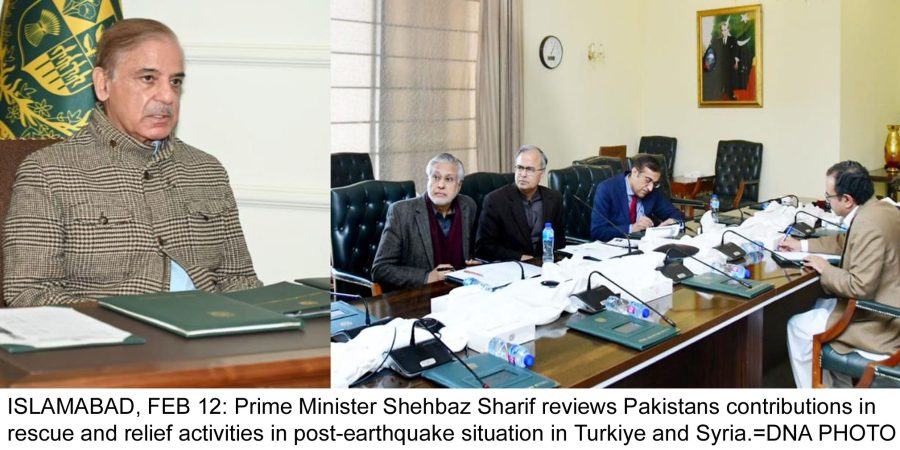 LAHORE, Feb 12 (DNA): Prime Minister Muhammad Shehbaz Sharif on Sunday said that Pakistan would continue assisting the quake-affected brethren and sisters of Turkiye and Syria by sending the relief aid.
He said that the fund established for the earthquake-affected people of Turkiye would also be utilized to support the quake victims of Syria.
The prime minister chaired a meeting to review the ongoing relief efforts on part of Pakistan to provide succor to the quake-affected populace of Turkiye and Syria, PM Office Media Wing said in a press release.
During the meeting, the prime minister said that Pakistan would bear all the expenses on the supply of relief goods to these countries.
He also directed the National Disaster Management Authority (NDMA) to purchase the required items keeping in view of the needs of the quake victims, adding that Pakistan was not only utilizing the air bridge but also ensuring supply of relief assistance through land and sea routes.
The meeting was attended by Minister for Finance Ishaq Dar, Minister for Planning Ahsan Iqbal, Minister for Information and Broadcasting Marriyum Aurangzeb, PM's Special Assistant Syed Tariq Fatemi, secretaries of foreign affairs, aviation, chairman NDMA and other high officials.
The prime minister directed the minister for planning to contact the educational institutions for running an organized fund-raising campaign.
He also asked the ministry of religious affairs to spread awareness in the religious institutions by taking the ulema on board.
The prime minister, on the occasion, praised the ministers, authorities, institutions and personnel who have been making efforts for the provision of relief to the quake victims.
He observed that the Pakistani rescue workers had been playing a major role in rescuing the people.
During the meeting, the prime minister was apprised that relief items including winterized tents, blankets, quilts and warm clothes were being sent to Turkiye and a large part of this consignment had been sent through air bridge.
Yesterday, a convoy of 21 trucks containing these items had left for the two countries. In the next few days, 1600 tons of ration would be dispatched to Turkiye and Syria through land and sea routes.
The meeting was further briefed that the people had started donating relief goods at the NDMA collection points.
Pakistan was immediately sending more than 11,000 winterized tents to the quake victims whereas 14,000 tents would be dispatched in the next week, and more than 42,000 blankets would be part of the relief assistance.
Ambassadors of Pakistan to Turkiye and Syria also apprised the prime minister of the situation in the quake-affected areas and the requirements of the affected people.
The prime minister directed them to remain in close contact with the respective governments of Turkiye and Syria. DNA