Pakistan shares Indian grief over temple fire casualties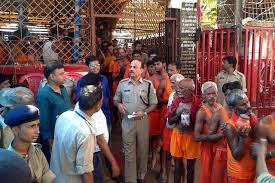 ISLAMABAD, April 10 (DNA): Pakistan on Sunday sent condolences to the Indian leaders over the temple fire tragedy that has killed nearly 110 people.Indian officials say that over 110 people were killed and 350 injured in a major fire caused by festive firework at the famous Puttingal Devi temple in Paravur, Kollam of the southern Indian state Kerala early Sunday.
"The people and the government of Pakistan express their deep condolences on the loss of precious lives, resulting from fire breakout in the temple in South Kerala, India," the Foreign Ministry said in Islamabad.
"Our sympathies are with the bereaved families. We wish early recovery to all injured people," a statement said.
India media has reported the fire broke out at around 03:00 a.m. local time when people were celebrating with fireworks and crackers which engulfed part of the temple premises, where some 10,000 to 15,000 people, mostly women and children, gathered for fireworks performance. DNA
=============================