Pakistan desires to further strengthen trade ties with Saudi Arabia: FPCCI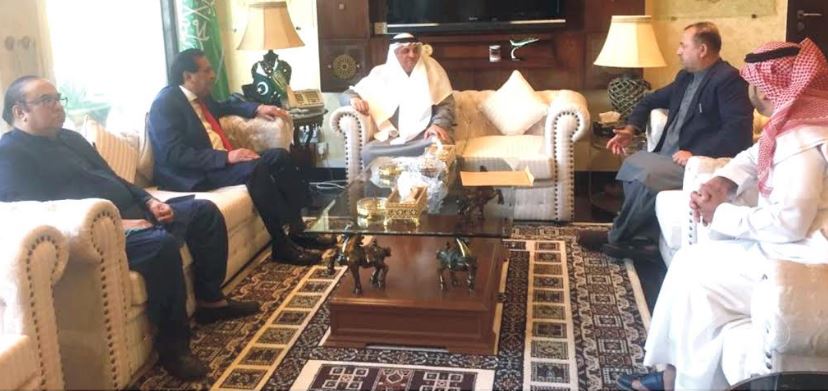 Islamabad (DNA). Pakistan desire to further strengthen its trade ties with Saudi Arabia as both countries have great scope to promote trade in many areas. Pakistan has strong strategic, diplomatic and economic relations with Saudi Arabia and cannot forget the financial assistance of Saudi Arabia in the form of oil on credit, construction of educational institutions and on Kashmir cause; this was stated by Mian Nasser Hyatt Maggo, President of the Federation of Pakistan Chambers of Commerce and Industry (FPCCI) in a meeting with Nawaf bin Said Al-Malki, Ambassador of Saudi Arabia in Pakistan held at Saudi Embassy in Islamabad, along with Qurban Ali, Chairman Capital Office & Mirza Abdul Rehman Chief Coordinator FPCCI.
Mian Nasser Hyatt Maggo, President FPCCI while quoting the statistics, he informed that the share of Pakistan in Saudi Arabia's trade is just 1 percent; while in Pakistan's trade is approximately 7 percent stated that Saudi Arabia is an important trading partner of Pakistan and the joint business council between the national chambers of both countries can play a vital role in enhancing the trade and business activities. He urged on accelerated efforts for activation of trade and economic promotional activities through this platform. He also underlined the need of exchange of trade delegations, holding of B2B meetings, trade exhibitions and business forums etc. He also emphasizedon enhancement and strengthening people to people contacts.
The President FPCCI further highlighted various potential areas for investment in special economic zones of Pakistan under CPEC project. He invited the investors of Saudi Arabia to explore Joint venturesin these special zones. Pakistan will facilitate Saudi investors by providing them one window operation.
Qurban Ali, Chairman Capital Office & Mirza Abdul Rehman Chief Coordinator FPCCI also emphasized on the enhancement of bilateral trades and investment and suggested opening of Saudi Arabia EXIM bank branch in Pakistan for trade facilitation. Mirza Abdul Rehman &Qurban Ali highlighted the potentials of bilateral trade in different sectors and also requested multiple entry visa to the genuine businessmen on the recommendation of FPCCI within shortest possible time.
In his remarks, Nawaf bin Said Al-Malki, Ambassador of Saudi Arabia underscored the need of the removal of trade barriers and the promotion of trade through the direct route. He stated that Pakistan and Saudi Arabia both possess huge natural resources which can be utilized for enhancement of bilateral trade relations. He also informed that there is huge potential in rice, textile, sea food, sports goods, agro-based products and there is a need of direct interaction between the traders of both countries in these commodities.He said that Saudi Arabia wanted to see Pakistan as a growing economy as it is a very important country for the whole Muslim Ummah. He said that Pakistan has lots of potential for speedy economic growth that should be highlighted more effectively to attract foreign investors. He urged that the media should focus on projecting the positive things of Pakistan to change wrong perception about it. He said that wrong perceptions about Pakistan in foreign world needed to be changed to unlock its real economic potential.