Pakistan, China bilateral cooperation soars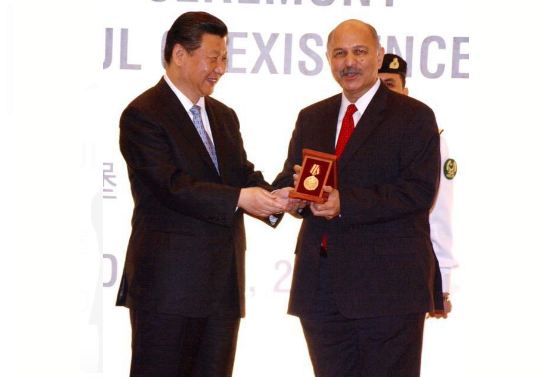 Collectively, we will tackle common challenges', says Mushahid
Faisal Sheikh
Islamabad /DNA/ – Under the leadership of Senator Mushahid Hussain Sayed, Chairman of the Senate Defence Committee and Pakistan-China Institute will spearhead a prominent delegation of seven parliamentarians on a momentous journey to China, the first parliamentary delegation to visit China after the COVID crisis.
The significance of this visit cannot be overstated, as it underscores the commitment of both Pakistan and China to further strengthen the bonds of friendship and cooperation. This highly anticipated visit aims to foster robust parliamentary exchanges between Pakistan and China, while further deepening the mutual understanding and cooperation between the two nations.
According to Senator Mushahid Hussain, the Delegation, "representing 6 political parties from all four provinces, is visiting China with a three-pronged purpose: a) to reaffirm Pakistan Parliament's commitment to promoting Pakistan-China friendship as the pillar of Pakistan's foreign policy; b) to learn from the Chinese experience of development and modernisation with a view to imbibing lessons that can take CPEC forward in the new phase; c) to exchange views with Chinese friends and counterparts on the rapidly changing situation in our neighbourhood so that Pakistan and China can tackle common challenges collectively".
The parliamentarians include Mahesh Kumar Mallani, MNA and Minister of State for National Health Services, Regulations, and Coordination; Mohsin Dawar, MNA, Chairman of the National Assembly Standing Committee on Foreign Affairs; Muhammad Abubakar, MNA, Chairman of the National Assembly Standing Committee on Parliamentary Affairs; Ghous Bux Khan Maher, Member of the National Assembly of Pakistan; Dr Nisar Ahmad Cheema, Member of the National Assembly Standing Committee on Science and Technology, National Health Services, Regulations, and Coordination; and Senator Sana Jamali, Member of the Senate Standing Committee on Power, National Health Services Regulations and Coordination, Science and Technology, and Water Resources.
During their stay in China, the delegation will partake in a series of high-level meetings with Senior Officials of China's Foreign Ministry, the International Department of the Communist Party of China's Central Committee, deputies to the National People's Congress, and Members of Chinese People's Political Consultative Conference plus media and think tanks for first-hand understanding of whole-process people's democracy.
These discussions will delve into vital matters of mutual interest, charting a course for deeper collaboration in several areas. Moreover, the delegation will also visit China Foreign Affairs University and Beijing Foreign Studies University, National Museum of China, and will meet business leaders and Media personnel.
With a schedule packed with high-level meetings, visits to prestigious institutions, and interactions with business leaders and media personnel, this momentous journey promises to deepen collaboration and pave the way for a prosperous future of bilateral cooperation.
The bonds between Pakistan and China are set to grow even stronger as this delegation embarks on this important endeavor of Parliamentary Diplomacy.