Pakistan Business delegation to visit Ethiopia in March to tap trade, exports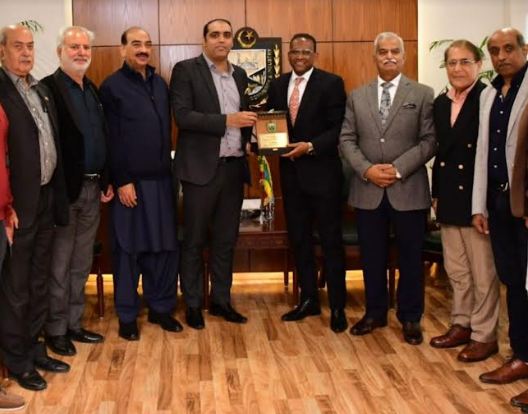 Islamabad, FEB 1 /DNA/ – Faad Waheed, Acting President, Islamabad Chamber of Commerce and Industry said that Africa is an untapped market for Pakistan and close cooperation with Ethiopia would help us in capitalizing on the potential business and investment opportunities in the huge market of the African continent. He said that the current volume of around US$ 25 million bilateral trade between Pakistan and Ethiopia is negligible as compared to the actual potential of both countries and stressed that both countries should encourage regular exchange of trade delegations to explore new areas of trade cooperation. He said this while talking to H.E. Jemal Beker Abdula, Ambassador of Ethiopia during his visit to Islamabad Chamber of Commerce and Industry.
Faad Waheed said that the start of direct flights from Ethiopia to Pakistan is a welcome development as it would help improve people-to-people and trade ties between the two countries. He said that Pakistan is producing many quality products including medicines, surgical instruments, leather goods, sports products, rice, light engineering goods, IT products and others that can find a good market in Ethiopia. He assured that ICCI would try to become part of Pakistan's delegation being formed for Ethiopia.
Speaking on the occasion, H.E. Jemal Beker Abdula, Ambassador of Ethiopia said that the Prime Minister of Ethiopia has a strong passion to promote trade ties with Pakistan and in line with this objective, a business delegation of Pakistan is planned to visit Ethiopia from March 6-10, 2023. He invited the members of Islamabad Chamber of Commerce & Industry (ICCI) to join the said delegation in order to tap the Ethiopian market for trade and exports. He said that the delegation would hold B2B and B2G meetings in Ethiopia to identify business and investment opportunities.
The Envoy said that a delegation of Arif Habib Group of Pakistan has already visited Addis Ababa where it met with business people and officials of the government of Ethiopia and discussed prospects of investing in the country's manufacturing sector. He said that Ethiopia is a gateway for the African region and Pakistani investors have a good opportunity to set up industrial units in Ethiopia to get duty free access to the huge market of 1.4 billion people of African countries. He said that Ethiopia is importing many products including pharmaceuticals, textiles & construction material and Pakistani exporters have good potential to export these products to Ethiopia. He said that the Ethiopian airline is expected to start operations to Addis Ababa to Karachi from March 2023 that would help in improving B2B and P2P relations between the two countries.
Khalid Iqbal Malik Group Leader ICCI, Zahid Maqbool, Tariq Sadiq, Aamir Hussain and others also spoke at the occasion and offered many useful proposals to further improve bilateral trade and economic relations between Pakistan and Ethiopia.