Pakistan attaches great importance to ties with Korea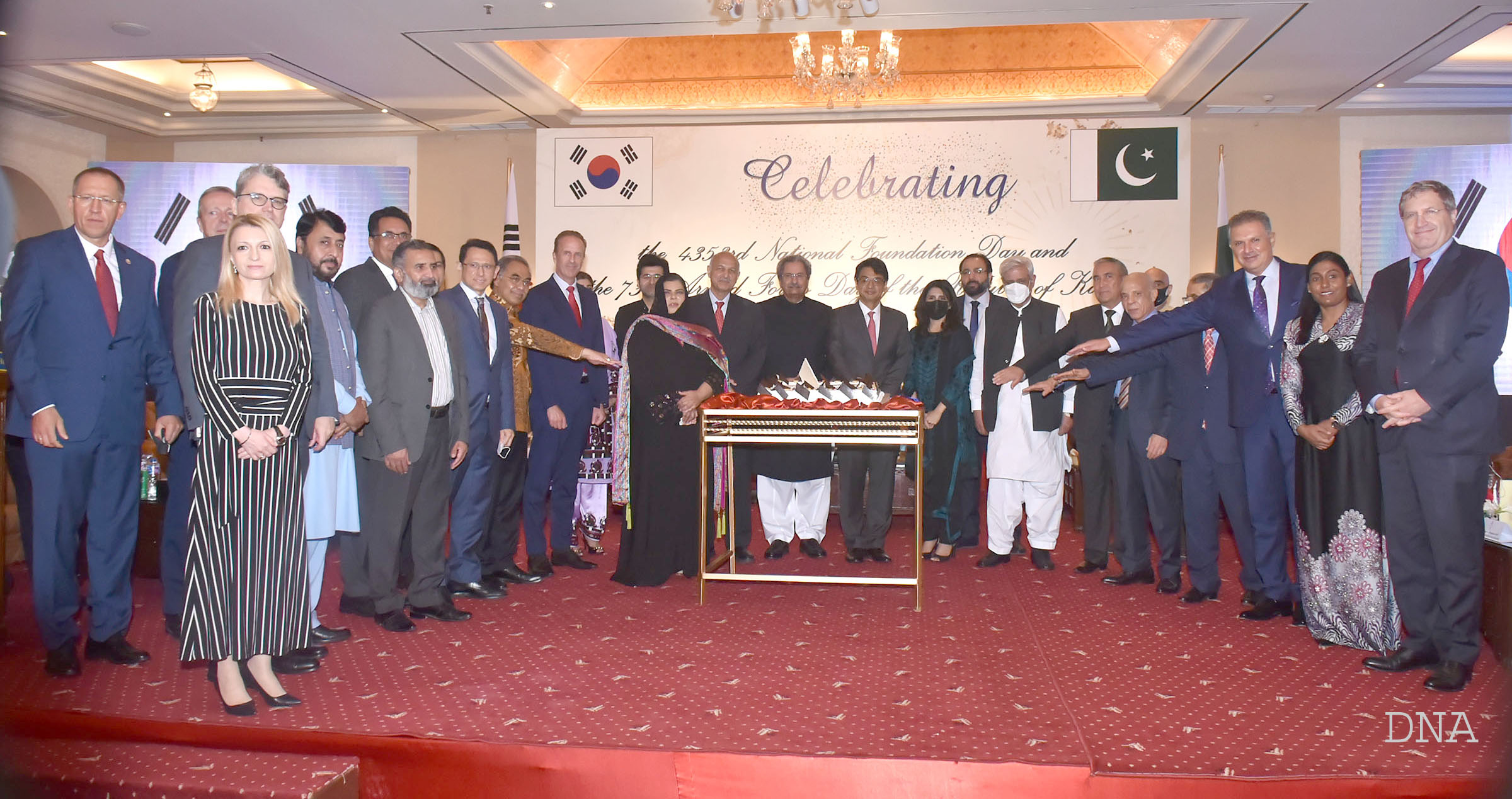 Shafqat Mahmood says Korea excellent place to visit; Mushahid Hussain calls for enhanced parliamentary ties; Ambassador Suh Sangpyo bilateral relations have developed rapidly
Ansar M Bhatti
ISLAMABAD: Federal Minister for Education Shafqat Mahmood has said Pakistan and Korea enjoy excellent relations adding there existed huge scope of further expansion of bilateral relations.
Shafqat Mahmood expressed words on the occasion of National Foundation Day and the Armed Forces Day of Republic of Korea. Guests hailing from all walks of life attended the reception. It was second formal diplomatic reception after relaxation in the Covid restrictions.
Shafqat Mahmod further said he had visited Korea on a couple of occasions and found the country a must-visit place. He said the way Koreans have progressed in various fields especially in the field of technology, is simply remarkable.
Senator Mushahid Hussain Chairman Senate Defence Committee also spoke on the occasion and extended warm wishes to the Korean government and people on the occasion. He said Pakistan wanted to have enhanced and deeper cooperation with Korea.
Ambassador of Republic of Korea Suh Sangpyo in his address said, the first state of Korea, Gojoseon, was founded in 2333 BC, on 3rd October, and Korea celebrates the day as a Nation Foundation Day. So this year falls on 4353rd anniversary of the Republic of Korea.
He added, the diplomatic ties between Korea and Pakistan were established in 1983. Since then, relations of the two countries have increased rapidly in manifold areas. In particular, this year we have witnessed many concrete outcomes in our relations. In just a couple of minutes we watched a video clip on what has been done this year between Korea and Pakistan.
In Political area, last Wednesday, two days ago, Korean 1st Vice Minister came to Islamabad and held the bilateral Political Consultation meeting with Foreign Secretary. And in the current Afghan issues, Korea and Pakistan are closely cooperating with each other. A month ago, the two foreign ministers had a consultation by telephone and with full supports from the Pakistani government, 390 Afghan nationals were safely moved from Kabul through Islamabad to Korea.
In economic area, Korean companies are increasing investments to Pakistan. In hydropower sector, already two hydropower plants are under operation producing electricity in Pakistan and the hydropower projects which account 2 billion in total are ongoing. In automobile sector, Korean mark cars, Hyundai and Kia, are locally produced. In mobile phone business, Samsung electronics are establishing an assembly line Karachi and once established as planned by December, the factory will produce 3 million units of mobile phones a year and creating 800 local employees. And some of Korea-Pakistan joint ventures are already in Special Economic Zone.
The ambassador said, Culture is one of the sectors that have expanded the cooperation. Korea and Pakistan soon to conclude MOU to preserve and promote Gandhara Buddhist heritage, which includes 4 million USD grant. This MOU is expected to facilitate the Korean Buddhist tourism project which was discussed when the president of Jogye order (i.e. biggest Buddhist sect in Korea) came to Pakistan in 2019. Korean music, dancing and drama are also popular in Pakistan. So they could be in Korea with more contacts and cooperation.
Development cooperation is also expanding this year. When the Korean delegation from Ministry of Finance visited in July, Korea announced the provision of the Economic Development Cooperation Fund of one billion USD for 5 years starting from next year. This fund is a soft loan to assist developing countries. The previous EDCF was 500 million USD for the years. Now in terms of the committed volume of EDCF, the number is doubled up. Grant assistance from the Korean development agency, KOICA, is also active now, 5 projects ongoing amounting 40 million dollar and next year 2 more projects amount 15 million US dollar will be added up.
'In academic and research area, this year we harvested some concrete results. Based on the MOU between Institute of Foreign Affairs and National Security of Korea IFANS and Islmabad Policy Research Institute of Pakistan IPRI, which had been inactive since the signing of MOU in 2011, the 1st seminar was organized in last June. In August, we signed a new MOU between Institute of Foreign Affairs and National Security of Korea and Institute of strategic studies Islamabad ISSI. Before the end of this year at least two more seminars will be organized among IFANS and IPRI and ISSI'.
Ambassador Suh said there were still many areas where both countries can further expand relations. For example, Senate and Parliament play key role for enhancing the bilateral relations, by giving an impetus and even make legislation for promoting relations. So strengthening cooperation between Parliaments of the two countries should be also an area of priority to the both countries.
I'm sure that relations between Korea and Pakistan will be even more strengthened in the years to come, he concluded.