Pakistan Athletics team reaches China for Asian Games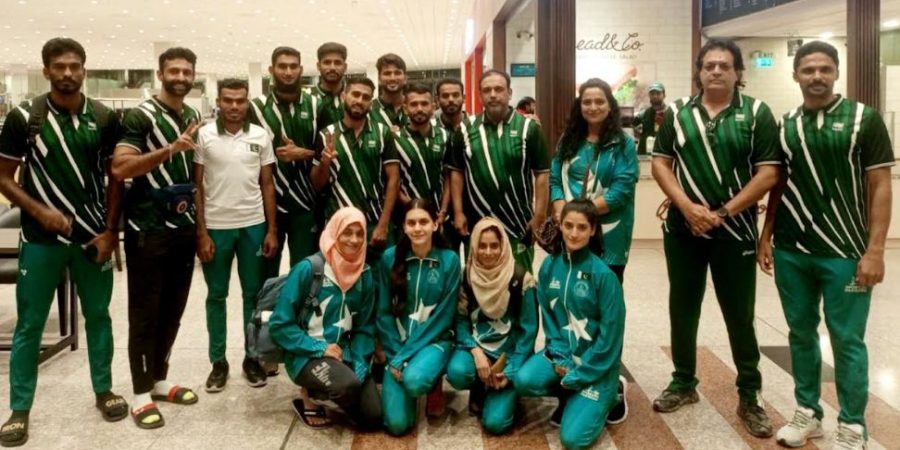 By our correspondent
ISLAMABAD: Pakistan athletics team has arrived in China on Wednesday to participate in the athletics competitions of ongoing 19th Asian Games at Hangzhou.
13 mens and 4 women will be seen in action in athletic competitions of the asian games, while the team officials include Olympian Sadaf Siddiqui, Fayyaz Hussain, Sajjad Mahmood and Muhammad Sajid.
´´We are thankful to the Pakistan Olympic Association (POA) and Pakistan Sports Board (PSB) for the participation of a large number of Pakistani athletes in the Asian Game´´ said Olympian Sadaf Siddiqui who is the team official of athletic team, adding that we are hopeful that the national athletes will make the country pride in the athletic competitions.
She said that China, the host country for the Asian Games, has made the best arrangements for hosting the asian biggest event.
While Asian games athletics events will be held from September 29 to October 5 and country's premier javelin thrower Arshad Nadeem along with Mohammad Yasir will be in action in the javelin throw event. The other athletes include Gohar Shahbaz, Shajar Abbas (100 and 200 meters race), Muhammad Asad ur Rehman (400m), Waqas Akbar (800m), Muhammad Akhtar (5000m), Farhan Ilyas, Abid Razzaq (110m and 400m hurdles), Sohail Amir (10000m race), Jafar Ashraf (pole vault), Muhammad Afzal. (Long Jump), Shehroz Khan (High Jump), Tameen Khan (100M), Ghazala Ramzan (100 Meters Hurdles), Rabila Faraq (1500M), Farhat Bano (10,000 Meters Race) will be seen in action for medal race.
On the other hand, the Athletics Federation of Pakistan (AFP) surprisingly stopped two female athletes Sahib E Asra and Arooj Kiran from going to China a few hours before the departure, on which the athletes have expressed deep disappointment.