Pak vs NZ: Saqlain Mushtaq joins New Zealand as assistant coach for Pakistan tour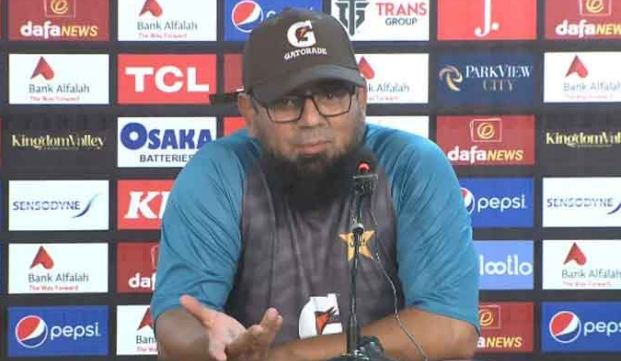 Former off-spinner Saqlain Mushtaq is all set to perform his duties as the New Zealand team's assistant coach for the upcoming limited-overs series against Pakistan.
"I have accepted this role for a brief period after New Zealand Cricket approached me. I will only work with the team during their stay in Pakistan," Saqlain confirmed while speaking to Geo News.
"I am currently in the United States and will join the NZ squad upon my return on April 12," said the former interim Pakistan head coach.
Mushtaq will work with the Black Caps during the T20I and ODI series against Pakistan, scheduled to be played in April-May. The series includes five ODIs and as many T20Is.
Mushtaq recently served as head coach of the Pakistan team but he left the role after his contract expired in February earlier this year.
The development comes as the Pakistan Cricket Board (PCB) is expected to appoint a new coaching staff led by Mickey Arthur — who will serve as a consultant.
Arthur has previously served as head coach of the Pakistan team for three years, having taken up the mantle in 2016. During his tenure, Pakistan also won the ICC Champions Trophy in 2017.
However, the PCB decided to not renew the contracts of Arthur and his support staff, following the team's fifth-place finish at the ICC Men's Cricket World Cup 2019.
According to sources, the PCB has nearly finalised all the details with regard to the coaching staff and an official announcement is expected soon.
Additionally, sources added that New Zealand's Grant Bradburn, who has worked as Pakistan's fielding coach in the past, could be named as head coach, meanwhile, former South Africa pacer Morne Morkel is in the mix for the role of bowling coach.
It must be noted that the schedule for the series between Pakistan and New Zealand was revised recently due to elections in Punjab.
"The Pakistan Cricket Board and New Zealand Cricket have unanimously agreed to make tweaks to the New Zealand men's cricket team's tour of Pakistan for five ODIs and five T20Is," the PCB stated in a press release on March 20.
"The side will now arrive in Lahore and will play three T20Is from 14-17 April, before travelling to Rawalpindi where the final two T20Is and first ODI will be played from 20-26 April. The tour will culminate in Karachi with the remaining four ODIs to be played from 30 April to 7 May.
"This is an additional tour by the New Zealand cricket team and the matches will count towards ICC Team Rankings. The ODIs will help Pakistan to prepare their side for the ACC Asia Cup and ICC Men's Cricket World Cup 2023, while the T20I will assist the PCB to continue with their rebuilding of the side for the ICC Men's T20 World Cup 2024, which will be held in the USA and West Indies in June/July 2024."
Schedule:
April 14 — 1st T20I, Lahore
April 15 — 2nd T20I, Lahore
April 17 — 3rd T20I, Lahore
April 20 — 4th T20I, Rawalpindi
April 24 — 5th T20I, Rawalpindi
April 26 — 1st ODI, Rawalpindi
April 30 — 2nd ODI, Karachi
May 3 — 3rd ODI, Karachi
May 5 — 4th ODI, Karachi
May 7 — 5th ODI, Karachi