Pak-Tajikistan accord in diverse fields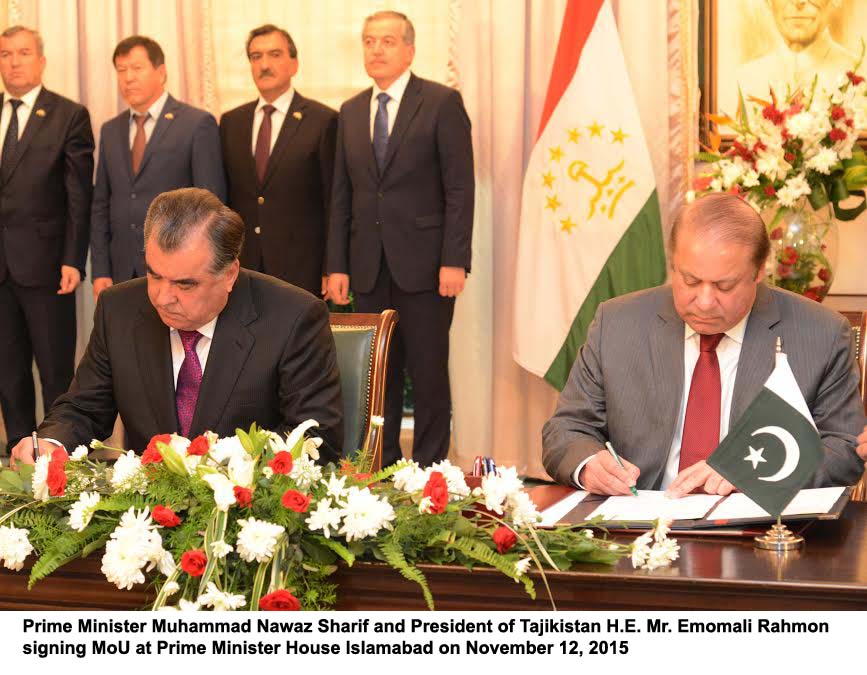 ISLAMABAD, Nov 12 (DNA): Pakistan and Tajikistan on Thursday inked accords in diverse fields including a Treaty on extradition, an Agreement on energy cooperation and a Memorandum of Understanding on establishment of Joint Business Council.Prime Minister Muhammad Nawaz Sharif and Tajik President Emomali Rahmon witnessed the signing of documents and also signed a Joint Statement, at a ceremony held here at the PM House.The Extradition Treaty between Pakistan and Tajikistan was signed by PM's Advisor on Foreign Affairs Sartaj Aziz and Tajik Minister for Internal Affairs Ramazon Rahimzoda.
The Agreement on cooperation in the field of energy was signed by Minister for Water and Power Khawaja Muhammad Asif and Tajik Minister for Energy and Water Resources Usmonaly Usmon.
The Agreement for the establishment of the Joint Business Council was signed by President Federation of Pakistan Chambers of Commerce and Industry (FPCCI) Mian Muhammad Idrees and Head of the Chamber of Commerce and Industry of Tajikistan Sharif Said.
The MoU between the Ministries of Foreign Affairs of the two countries was inked by PM's Advisor Sartaj Aziz and Tajikistan's Foreign Affairs Minister Sirojidin Aslov.
The MoU for enhancement of cooperation in industrial sector as signed by PM's Special Assistant Syed Tariq Fatemi and Tajikistan's Minister for Industry and New Technology Shavkat Bobozada.
The Programme for Cooperation on `Exploitation of indigenous and exotic medicinal plants for herbal drugs' was signed by Minister for Science and Technology and President of Tajikistan's Academy of Sciences (TAS) Farhod Rahimi.
The Programme for cooperation between Pakistan Museum of Natural History and Tajikistan's Institute of Geology, Earthquake Engineering and Seismology was inked by Minister for Science and Technology Rana Tanvir Hussain and President TAS Farhod Rahimi.
Earlier, PM Nawaz Sharif and President of Tajikistan held a one-on-one meeting and discussed ways to strengthen bilateral relations particularly in the areas of trade, energy and connectivity.
Nawaz Sharif said Pakistan attaches great importance to its relations with Central Asia particularly Tajikistan, which is geographically closest to Pakistan among all Central Asian states.
Stressing for establishment of air links between Pakistan and Tajikistan on priority basis, he said, connectivity holds key to the regional integration.
The Prime Minister said the relations with Central Asia are based on cultural and religious affinity dating back centuries and added that Pakistan wished to transform these fraternal ties into a strong economic partnership.
He recalled his recent visits to Turkmenistan, Kyrgyzstan and Tajikistan and apprised him of his upcoming visit to Uzbekistan on November 17.
He said these visits were aimed at further promoting bilateral cooperation and stressed to ensure implementation of initiatives taken and Agreements concluded during such high-level visits.
The Prime Minister expressed satisfaction that bilateral trade between Pakistan and Tajikistan had steadily risen to US$15 million in 2011 to US$89 million in 2014. He called for working arduously to achieve the target of US$500 million that had been agreed to achieve in three years in 2014.
On stronger connectivity, the Prime Minister said China Pakistan Economic Corridor (CPEC) would provide new opportunities for enhanced connectivity and integration from Gwadar to Kashgar. It will also provide a road link with Tajikistan through Murghab and other Central Asian states.
Prime Minister Nawaz Sharif said Pakistan was keen for implementation of CASA-1000 (Central Asia South Asia) project and expressed hope that the project would be completed by 2018.
Pakistan, he said, attaches great importance security cooperation with Tajikistan, and proposed to share the experiences on counter-terrorism, anti-narcotics, controlling human trafficking and best border control practices.
Tajik President Rahmon endorsed the Prime Minister for enhanced steps to further strengthen ties in areas of trade, energy, communication, security and defence, and people-to-people contacts.