Pak-Iran relations will strengthen: Hassan Rouhani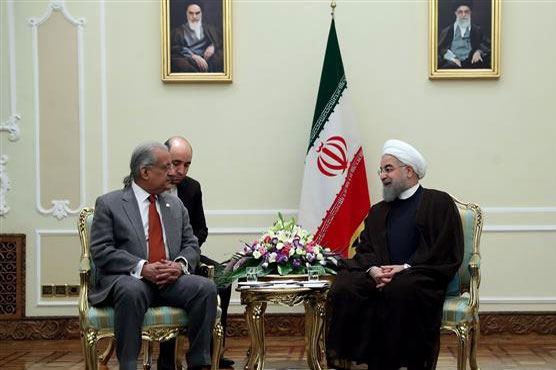 TEHRAN, AUG 08 (DNA) – Senate Chairman Mian Raza Rabbani met newly elected Iranian Presdient Hassan Rouhani in Tehran and exchanged views on matters of mutual interest and security situation of the region.
According to Senate secretariat, Rabbani while talking on four-point agenda said that Pakistan wishes to enhance coordination, economic cooperation, security issues and parliamentary ties with Iran through energy and communication system.
Senate Chairman thanked the president for their stance on Kashmir issue which was also articulated recently by Iran s Supreme Leader Ayatollah Khamenei.
Iranian President expressed hope that relations between both the countries will strengthen with time.
Raza Rabbani is on Iran visit alongwith parliamentary delegation including senator Zameer Muhammad Yousaf Badeni, Hidayatullah, Ghaus Muhammad Khan Niazi and Raheela Magsi. He attended Rouhani's inauguration for a second term on a special invitation from Iran's political leadership.