Pak improving connectivity with Afghanistan: Abrar Hussain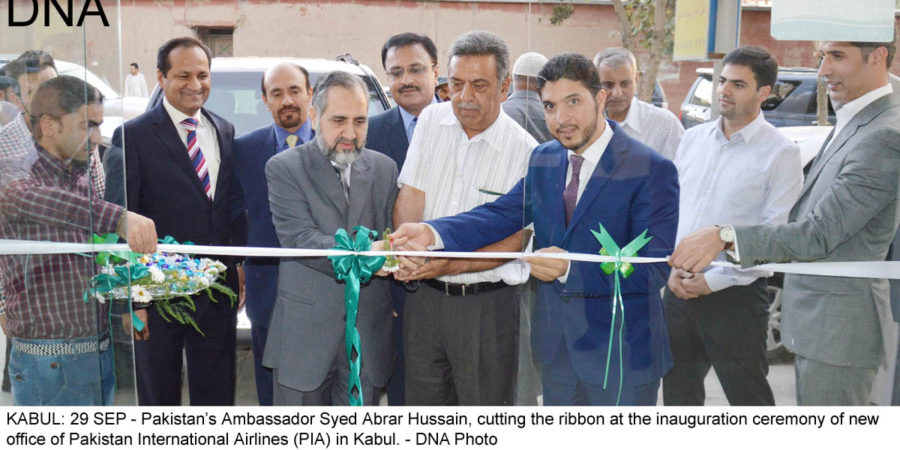 KABUL, 29 SEPT (DNA) – Pakistan's Ambassador to Afghanistan, Syed Abrar Hussain Thursday said that his country was vigorously working on improving road and aerial connectivity with Afghanistan. In this regard, Pakistan built 75 km Torkham-Jalalabad road, he stated, and increased the number of flights between Islamabad and Kabul.
The Ambassador expressed optimism that these measures would not only improve regional connectivity but would also facilitate and bring the people of the two countries closer. He expressed these views while inaugurating the new office of Pakistan International Airlines (PIA) in Kabul.
Speaking on the occasion, Abrar Hussain said that Pakistan accorded highest importance to its tie with Afghanistan as the two countries had shared history, religion and culture. "In view of these commonalities and brotherly relationship, Pakistan has built a number of projects for the social and economic development of Afghanistan, including Liaquat Ali Khan University, Balkh, Allama Mohammad Iqbal Faculty in Kabul University, Sir Syed Post Graduate Faculty of Sciences, Nangarhar University, Rehman Baba Hostel and School in Kabul, Nishtar Kidney Centre, Jalalabad, Jinnah Hospital, Kabul, and Naib Aminullah Khan Hospital at Logar", added the Ambassador.
Hussain informed the participants that educational development of Afghanistan was the main priority of Pakistan.  "In this context, Pakistan has sent 3,000 Afghan students on fully-funded scholarships, who are currently studying in higher education institutions of Pakistan, while additional 2,000 scholarships would be offered to them in near future", said the Ambassador.
He further elaborated that 7,000 Afghan students have currently been studying in Pakistani universities whereas more than 30,000 Afghans had already graduated from Pakistan during the last three decades and were contributing to the development of their country.  He reiterated his government's commitment to continue its efforts for the promotion of peace and social and economic prosperity of Afghanistan DNA