PAF PAYS RICH TRIBUTE TO THE GREATEST HUMANITARIAN ABDUL SATTAR EDHI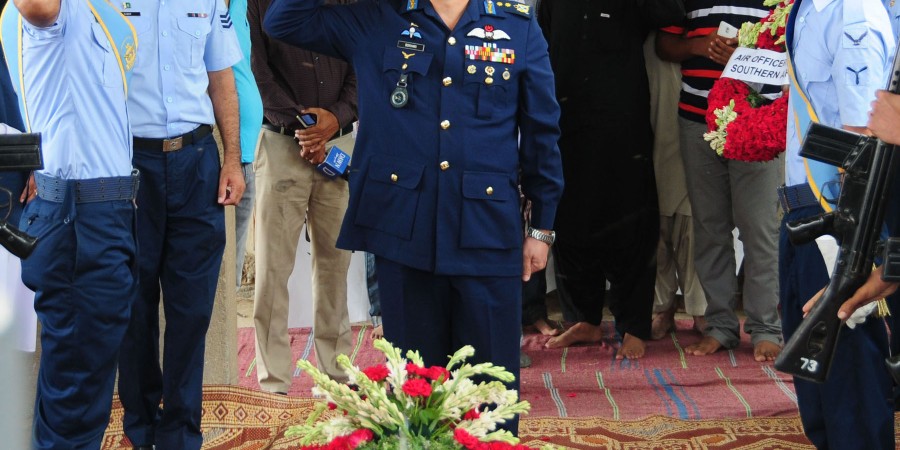 KARACHI 10 JULY, 2016:  Pakistan Air Force paid rich tributes to the world acclaimed humanitarian and iconic social worker Abdul Sattar Edhi, who breathed his last on Friday night in Karachi. A PAF Contingent led by
Air Vice Marshal Salman Ahsan Bukhari, Air Officer Commanding,
Southern Air Command, offered 'Fateha' and laid floral wreath at the grave of Abdul Sattar Edhi on behalf of Air Chief Marshal Sohail Aman,
Chief of the Air Staff, Pakistan Air Force.
The Air Chief, in his message expressed his heartfelt grief on the sad demise of Abdul Sattar Edhi, and said that he was the pride of humanity, whose contributions and influence transcended borders and nationalities. The Air Chief also said that, Mr. Edhi was indeed a pioneer in the field of social service and the models of excellence set by him were replicated world over. While heading one of the largest private social service in the world, Mr. Edhi lived a very humble life with negligible possession and wore his greatness lightly. The Air Chief further said that he was the proud face of our national character, who has left us a mission; to embrace the love of humanity and work for the well being of the destitute and downtrodden.