PAEI delegation meets Ambassador of Morocco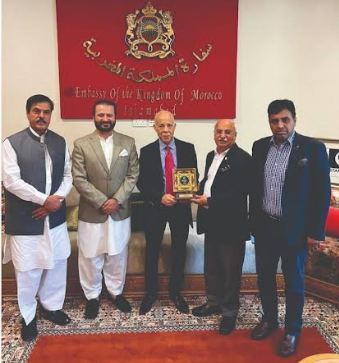 DNA
ISLAMABAD, AUG 21: Today PAEI Delegation led by Mr. Khurshid Barlas Founder Chairman Pakistan Association of Exhibition Industry met with Ambassador of Morocco to Pakistan H.E. Mr. Mohamed Karmoune along with Mr. Fahad Barlas convener Exhibition, Mr. Amin ur Rahman EC Member, Mr. Shumraiz EC Member PAEI,
In the meeting, Chairman Khurshid Barlas invited Moroccan ambassadors to Participate in "3rd Pakistan Housing and Construction Exhibition" that will be held on 17 – 19 November 2023" at Pakistan China Friend Center Islamabad. And he said that a large number of different business community from Various Builders, Developer, Allied Construction, banking projects and tourism industry will participate in three days property exhibitions across the country.
And also told about the international pavilion at the exhibition. The Moroccan ambassador accepted the invitation and assured that he will fully participate in the third Pakistan International Property and Construction Expo. During the conversation, the Ambassador of Morocco to Pakistan Mohammad Karmoun said that there is a long-lasting relationship between Pakistan and Morocco. In the end, Pakistan Association of Exhibition Industry also presented the shield to the Ambassador of Morocco, Mohammad Karmoun.