Opposition protests against PPP-led govt in Sindh Assembly over Rangers' powers extension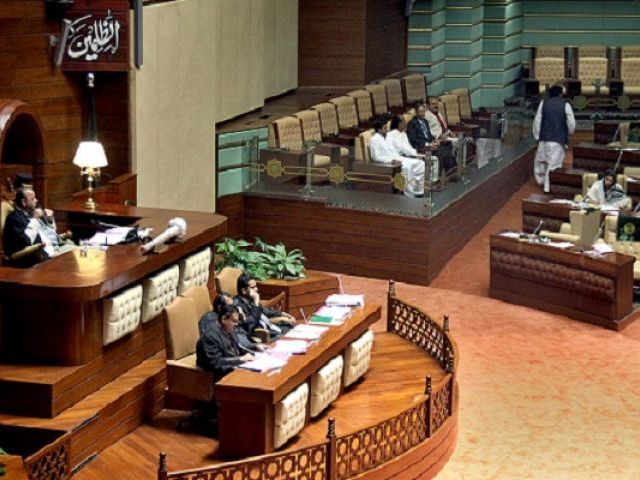 KARACHI: The Sindh Assembly session on Monday was adjourned amid chants by opposition parties protesting against the Pakistan Peoples Party-led Sindh government for not raising the issue of extending Rangers' special powers in the province.
Sindh Assembly speaker Agha Siraj Durrani adjourned the session till Tuesday morning.
The provincial assembly's agenda for Monday listed the resolution on ratifying Article 147 of the Constitution, which would extend special powers for the paramilitary Rangers in province, on number 11.
Earlier, when the Assembly's session began after a four-month hiatus the members of the opposition parties expressed their concerns over the Sindh government's lack of interest in bringing a resolution to extend the policing powers of Rangers in the province.
The opposition members urged the speaker to let a resolution be passed in this regard, however, Durrani refused their pleas on the ground that there was no resolution in place on the assembly's agenda for the day.
The provincial government is at loggerheads with the Rangers and has raised concerns over the paramilitary force's actions in the province.
Meanwhile, talking to media in Karachi, provincial minister Nisar Khuhro said Sindh government had no intent to withdraw personnel of the law enforcement agency from the city.
The minister criticised 'a ruckus and panic' that he said was created in the assembly on Monday even before the resolution could be presented.
On Sunday night, Prime Minister Nawaz Sharif stepped in to defuse the brewing controversy between the centre and Sindh over the extension of special powers to the Rangers. After returning from Turkmenistan, the prime minister called up Sindh Chief Minister Qaim Ali Shah to discuss the matter.
According to sources, Nawaz and Shah discussed the prevailing law and order situation in the province. Shah briefed the premier about his government's grievances vis-à-vis actions of the paramilitary force. He also complained to the premier about Saturday's statements of the federal interior minister, Chaudhry Nisar Ali Khan.
At a news conference Nisar had said that the Pakistan Peoples Party was "hampering [the] Karachi operation to save one person [Dr Asim Hussain]". He also threatened to make public the joint investigation report and supposed video confession of Dr Asim, on whom the entire controversy appears to be centred.