Online conference on "Digging Deep into EU Disinformation Lab Revelations".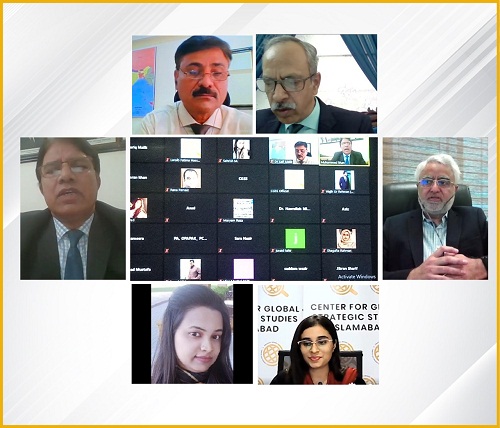 Islamabad, 23/06/2021 : The Online Conference commenced with the Opening Remarks of Mr. Tariq Malik, Former Chief Technology Officer, GHQ. He stated that fifth-generation warfare is information warfare. Before the information disclosed by EU Disinformation Lab, when analysts used to discuss Fifth generation warfare and its tools, it seemed quite unbelievable. India, to achieve its various economic, political, etc. agendas, is disseminating fake news about Pakistan.
Discussing the propaganda tactics by India he stated the level of state support, effort, and how it was manipulated by spreading it globally is evidence of the fact that this was a well-organized and planned attack to malign Pakistan.
Prof. Dr. Muhammad Khan, Professor, Department of Politics & International Relations, International Islamic University, Islamabad discussed the Hybrid Warfare: India's Subversive activities against Pakistan
According to Dr. Khan, Hybrid Warfare is a highly debated subject in the academic spheres. He mentioned that the use of Prominent personalities, influential media, and NGOs are a few of the tactics used by India. In addition to this, Dr. Khan also explained different domains in which India has penetrated to spread fake news about Pakistan. These domains include International Media, NGOs, Europe and America, and various other foreign governments.
In this regard, Indian Informational Technology plays a significant role. Dr.Khan, sharing his view, mentioned that the Indian Campaign against Pakistan is also one of the main causes of disturbing global and regional peace and stability as India has deeply penetrated the contemporary international system.
Moreover, he mentioned that to defeat Pakistan on various fronts, India has established numerous groups which are actively working to achieve the Indian interests and objects.
Mr. Tariq Malik, Former Chief Technology Officer, GHQ highlighted Countering the negative rhetoric, fake news, & media propaganda: Measures and Options for Pakistan
Mr. Tariq Malik stated that the fundamental objective of Indian Propaganda against Pakistan is to deprive Pakistan of its strategic autonomy, and a subservient strategic culture. He also explained, in detail, the Multipronged strategy which aims to destabilize Pakistan. The Indian strategy is mainly working in the Political, Economic, Media, and Religious domains. Explaining the Indian Strategy of Re-Engineering Pakistan's DNA, he explained that Indians are making efforts to alter our culture through their moves, dramas, and various social media videos.
According to Mr. Malik, Pakistan needs to formulate a cohesive national response to this threat. Furthermore, the responsibility lies with the policymakers and other elements of national power. Additionally, he explained that the Indian campaign does not only target Pakistan but China also. India has failed to spread information against China due to various reasons which include Chinese control over their media, control over cash flow including payments and expenditure, availability of local social media platforms, etc. He concluded by highlighting the importance of social media management.
Mr. Tariq Bakhtawar, Former Director, SECP Anti-Money Laundering Department highlightedthe Role of International Bodies in ensuring the objectives and balanced approach to disinformation
Mr. Tariq stated that in the current era of technological advancement, India has found a new battleground.To achieve their hostile agenda, India has now moved towards Hybrid warfare. India has time and again used multiple fronts of hybrid warfare against Pakistan by use of proxies, false flag operations, and financial support to terrorism.
He stated that various legal approaches have been taken to counter the emerging problem of manipulation through disinformation with fake news using mass sand social media. As widespread disinformation and false news has started to impact decision-making and democratic processes have become a worldwide challenge.
He highlighted that many countries have started to apply relevant provisions of existing civil, criminal administrative, and other laws to regulate media, electoral procedures, and anti-defamation laws to tackle the misinformation spread by social media platforms.
Dr. Saif-Ur-Rehman Malik, Director India Study Center, Institute of Strategic Studies Islamabad (ISSI) discussed EU disinformation lab revelations, uncovering India's hostile agenda.
According to Dr. Saif, the sensitivity of the subject demands continuous efforts and attention from Pakistan and International Community. He states that the issue of Misinformation raises several questions regarding the objectives, counter-strategy of Pakistan, response of the international community, and what Pakistan plans to do in response to the Indian Campaign.
Furthermore, he mentioned that Pakistan needs to adopt a Proactive response to the Indian campaign of spreading misinformation about Pakistan. Dr. Saif also shared few options for Pakistan. According to Dr. Saif, Pakistan should appeal for the issue to be investigated. Additionally, he suggested that the findings must also be shared with relevant international organizations with strategic significance. Moreover, they must also be made available on online platforms forthe public to access. Dr. Saif also highlighted the aspect of accountability in the case of international organizations involved in the campaign.
Ms. Shehrish Mujtaba, Member Board of Experts, Center for Global & Strategic Studies (CGSS), Islamabad discussed Digitalization, Social Media& Information Disorder: Formats of Misinformation, Disinformation & Mal-Information
Explaining disinformation, she stated that it is misleading information created, presented, and disseminated for economic gain or to intentionally deceive the public. According to Ms. Sehrish, the spread of both disinformation and misinformation can have a range of consequences, such as threatening our democracies, polarising debates, and putting the health, security, and environment of citizens at risk.
Additionally, she mentioned that Artificial Intelligence (AI) now enables the mass creation of what has become known as "deepfakes". These are synthetic videos that closely resemble real videos. She also stated that social media could be regarded as a 'double-edged sword. Even though studies show the benefits of enabling people to express their thoughts and feelings, and to receive social support, social media is also responsible for increasing mental health problems in younger people.
The Online Conference was moderated by Ms. Laraib Fatima Hassan, Communication and Coordination Manager, Center for Global & Strategic Studies (CGSS), Islamabad. The conference was attended by 50 participants from Pakistan and was also viewed live by 200 viewers on different social media platforms.