Occupied Kashmir remains under Indian military siege on 42nd day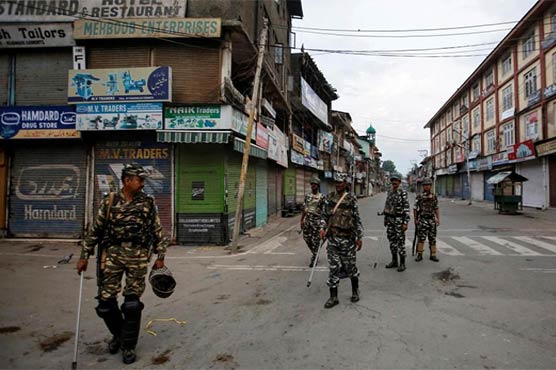 SRINAGAR (DNA): In occupied Kashmir, the humanitarian crisis is aggravating further as the Indian authorities continue to impose curfew and other restrictions in the Kashmir valley on the 42nd consecutive day, today.
The Kashmir valley remains under strict military siege as hundreds of thousands of Indian troops deployed in every nook and corner continue to keep millions of people confined to their homes.
The telecom sector of the territory has suffered a loss of more than 900 million rupees in last one month. An official of a telecom company told media that it would become difficult for the operators to continue their services if the Indian government did not lift the restrictions on mobile services and data in occupied Kashmir.
Meanwhile, global human rights watchdog, Amnesty International in a video posted on Twitter demanded to end lockdown in occupied Kashmir and urged India to let the people of the territory speak.
Speakers at a seminar in Hyderabad city of Indian state of Talangana strongly criticized the Modi government for repealing the special status of occupied Kashmir and demanded its restoration.
The speakers included Talangana State Secretary of Communist Party of India Marxist, Tammineni Veerabhadram, State Secretary of Communist Party of India Chada Venkat, former member of India Parliament, Aziz Pasha, and Editor of daily Andhra Jyothy, Sriniwas.