Nutshell & Martin Dow organizes "The Future Summit"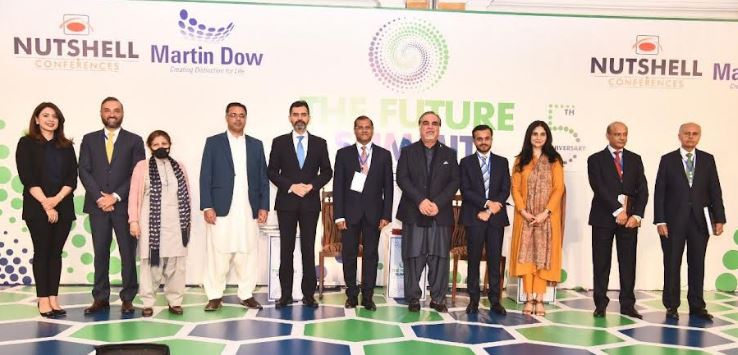 Governor says country's national economy is moving progressively on a higher and sustainable growth
Nazir Siyal
KARACHI: The country's national economy is moving progressively on a higher inclusive and sustainable growth path on the back of various measures and resultant achievements despite a myriad of challenges.
This was expressed by Governor Sindh Imran Ismail, while addressing The Future Summit organised jointly by Nutshell and Martin Dow at a local hotel here on Wednesday. The Governor State Bank of Pakistan, Dr. Raza Baqir, Sohail Aman, (Rtd) Air Chief Marshal; Ali Akhai, Chairman Martin Dow; Ehsan Malik, CEO Pakistan Business Council; Ghias khan, CEO Engro, Dr Shamshad Akhtar, former Governor SBP and others also attended the summit.
Governor Sindh Imran Ismail observed that during the past three years of the incumbent federal government, it had faced numerous economic challenges which were somehow aggravated by the pandemic. However, the federal government has quite successfully progressed from recovery and stabilization of the national economy to its sustainable growth. "The impact of the federal government's timely and appropriate measures is very much visible in the form of an economic recovery on the back of broad-based growth across all sectors", he maintained.
The Governor Sindh said that the national economy of Pakistan already had a volatile growth pattern over the years, marked by regular up and down cycles, which posed challenges in achieving long-term and inclusive growth. "The present government has focused on an economic vision of securing sustainable economic growth through improved efficiency, ease of doing business, better regulatory environment, enhanced productivity, and increased investment", he added.
The Governor Sindh while appreciating the efforts of organisers said that the future summit allowed leading business figures from around the world to present their ideas and effective business strategies in a comprehensive discussion to address economic and business concerns.
The Governor SBP Dr. Raza Baqir also spoke on the occasion. He spelled out the economic outlook from the central bank's perspective, and said that Pakistan remained successful in containing Covid-19 waves that had opened new vistas of prosperity. "SBP's policy support measures during Covid were "aggressive, protective, flexible and targeted", he added.
He cited interventions like Temporary Economic Reform Facility (TERF) that had helped shore up industrial productivity in a demand depressed environment.
The Principal Loan Extension Programme and Rozgar Scheme to Prevent Layoffs, provided timely loan relief and working capital to businessmen, as well as the worker class.
He also mentioned about the current account and fiscal deficit state in detail with the help of slides along with the timely decisions/steps of the government.