Northern regions have vast opportunities for tourism and business: President ICCI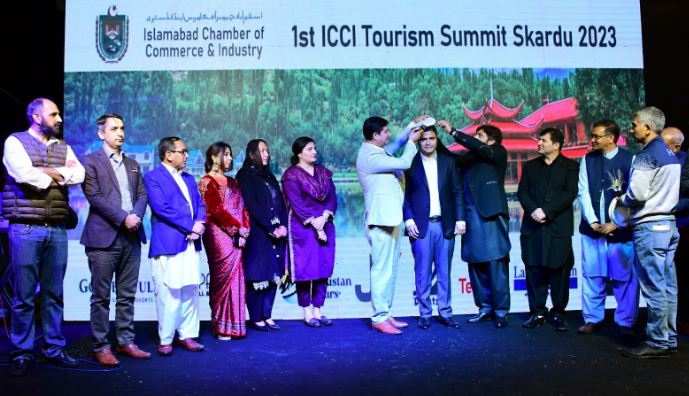 Gilgit/Islamabad, JUL 8: /DNA/ – President Islamabad Chamber of Commerce and Industry Ahsan Zafar Bakhtawari has said that the northern regions of Pakistan are full of tourism and business opportunities. ICCI International Tourism Summit organized by Islamabad Chamber will be a milestone for the development of the region and promotion of tourism. This 3-day summit is a historic opportunity to highlight the beauty of the Northern Territory to the world and attract local, foreign tourists and investors. Investors benefit from the vast deposits of high-quality marble and granite found in these areas.
The government should improve the air link to connect the northern regions with Pakistan and the world, and Skardu Airport should be modernized. Motorways should be constructed and the road network should be widened at the local level. He expressed these views while addressing the opening session of the first ICCI International Tourism Summit held on Saturday. A large number of ambassadors and business community from several countries including Malaysia, Turkey, Bangladesh, Nepal, Somalia, Sudan, Syria participated in the summit.He said that there is a lot of potential for tourism and business in the northern regions of Pakistan.
This 3-day summit is surely a historic opportunity to tap the unexplored potential of the northern regions of Pakistan and attract local, foreign tourists and investors.It is a fact that we have beautiful tourist destinations like Switzerland, one can come and visit these places freely.He said that there are vast investment opportunities in the northern regions.Large deposits of marble and granite of high quality and unique colors are available in these areas, but huge quantities of marble and granite are being wasted due to non-use of modern technology.Ghazar, Skardu, Hunza and Gilgit districts are rich in deposits of precious stones
Apart from this, there are serpentine deposits in Skardu district.At present they are being mined through blasting technique which not only destroys these natural resources but also wastes more than 75% of the total production.The best varieties of fruits are grown in these areas, besides controlling wastage of fruits, the production can be further increased by using modern techniques.Value addition is a very important factor for producing other products from fruits. This will greatly help in increasing the export of fruits and their products to different countries of the world.
The government of Pakistan is taking various measures to promote tourism, but more facilities should be provided to local and foreign tourists by developing international standard tourist destinations.The number of direct flights should be increased for easy access to these areas and the Skardu Airport should be fully modernized to provide better services to the tourists.The road network should be further improved by constructing motorways and creating more recreational areas at various places. He said that I am grateful to the entire team of Islamabad Chamber of Commerce and Industry who worked day and night to make excellent arrangements for the visit and stay of the delegates. This conference will be a milestone for the promotion of tourism and business in the northern regions.