'No safe space in Gaza' as IDF cripples Al-Shifa, other hospitals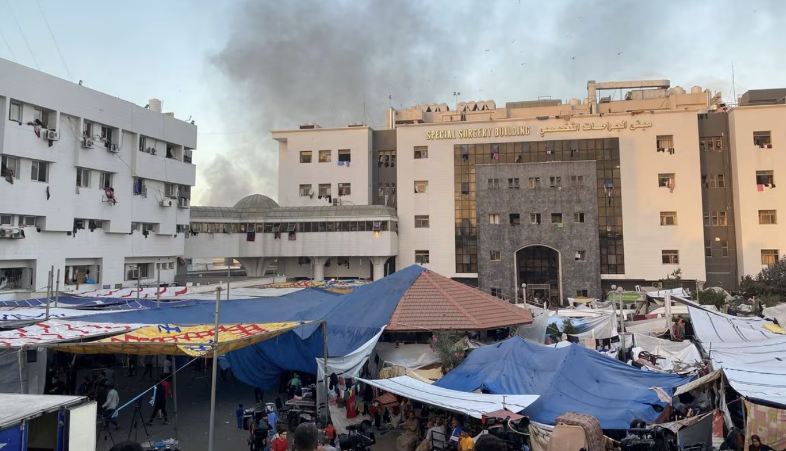 There is no safe space in Gaza due to the ongoing Israeli aggression, said the Palestinian Ministry of Foreign Affairs on Sunday as the war raged on for the 37th day in the narrow enclave.
Thousands of Palestinians were forcefully evicted South while Israel continued to target hospitals and refugee camps amid protestors across the world calling for a ceasefire.
According to Palestinian officials, at least 11,078 Gazans have been killed in air and artillery strikes since October 7, majority of them children, women and the elderly, as of Friday.
At least 18 of Gaza's 35 hospitals were forced to shut down due to Israeli air strikes, reported Al Jazeera.
Violent clashes raged on between IDF and Hamas fighters in Al Nasr neighbourhood, home to several major hospitals, and Al Shati camp in Gaza.
As the humanitarian situation worsened, Gaza's border authority said the Rafah crossing into Egypt would reopen on Sunday for foreign passport holders. Jordan also air-dropped more aid into a field hospital in the enclave.
At a news conference late on Saturday, Israeli Prime Minister Benjamin Netanyahu announced the deaths of five more Israeli soldiers in Gaza. The Israeli military said 46 had been killed since its ground operations there began.
Hamas said it had completely or partially destroyed more than 160 Israeli military targets in Gaza, including more than 27 tanks and vehicles in the past 48 hours. An Israeli military spokesperson said Hamas had lost control of northern Gaza.
A temporary halt in fighting was announced by the Israeli army on Sunday to allow citizens to leave northern Gaza along Salah al-Din Street from 9am to 4pm [7am to 2am GMT].
The Israeli army said there would be a four-hour "temporary tactical cessation of military activities" in Jabalia starting from 10am [8am GMT].
"We call on residents to take advantage of this temporary suspension of fires and move south," the military wrote on its Arabic channel on X, adding that there would also be a humanitarian corridor for people to leave Al-Shifa Hospital through Al-Wahda street to reach the Salah al-Din route.
However, Al-Jazeera reported testimonies from inside the hospital stating that leaving the medical facility is not safe.
In separate messages, Ahmad Mokhallalati, a surgeon inside al-Shifa, and Mustafa Sarsour, the only remaining journalist inside the hospital, told Al Jazeera that they witnessed civilians trying to exit the building being shot at.
Meanwhile, Muhammad R Mhawish, a Palestinian journalist in Gaza City told Al Jazeera that the humanitarian pauses announced by IDF were only on Salah al-Din Street, not on the streets leading to it.
"Within the city, the fighting is ongoing, and all the roads in the city are destroyed," he said, adding that there's no way to get to Salah al-Din from downtown Gaza City.
Palestinians have mainly been using Salah al-Din Street to flee towards southern Gaza.
Mhawish is staying with 30 other members of his family, most of whom are elderly and unwell or small children, making planning a long trek nearly impossible.
They cannot leave, food is running out, and they are unsure what tomorrow will bring, he said.
Israeli Agriculture Minister Avi Dichter called the evacuations "Gaza's Nakba" – a reference to mass dispossessions of Palestinians after Israel was founded in 1948.
"Operationally there's no way to conduct a war the way the IDF (Israel Defense Forces) wants to conduct it inside Gaza territories," Dichter said. "I don't know how it will end."
IDF targets hospitals
The Israeli military further strengthened its siege of Al-Shifa, the largest hospital in the enclave, on Sunday with tanks and armoured vehicles closing in on the health facility from all sides – from the north, east and southern parts, just a couple of hundreds metres away.
Israeli Defence Forces (IDF) are targeting the hospital repeatedly and attack drones are hovering at a low altitude over the area, reported Al-Jazeera.
The hospital's director, Muhammad Abu Salmiya, said premature babies are in a "precarious situation" and any person moving within the hospital compound is being attacked by Israeli snipers. At least two newborns have died at the hospital while dozens more remain at risk at the facility which has run out of fuel.
Ashraf Al-Qidra, of the Palestinian health ministry, said the hospital had ceased functioning since Saturday, after it ran out of fuel. He said two babies had died in an incubator as a result.
"We are using all and primitive means to try not to lose more lives," Al-Qidra told Reuters. "But unless a solution is found to provide us with fuel or electricity the patients and injured are at risk of death."
Despite reports of possible evacuation of infants and other patients, moving them anywhere remained improbable on Sunday with most hospitals in northern Gaza under attack by Israeli forces, without electricity and low on supplies to treat the patients properly or keep incubators running.
Israel has said doctors, patients and thousands of evacuees who have taken refuge at hospitals in northern Gaza must leave so it can tackle Hamas gunmen who it says have placed command centres under and around them.
Hamas denies using hospitals this way. Medical staff say patients could die if they are moved and Palestinian officials say Israeli fire makes it dangerous for others to leave.
Amid the ongoing fighting, the Israeli military claimed it was ready to evacuate babies from Al-Shifa but safe passage could not be secured.
Meanwhile, reiteriating its call for a humanitarian ceasefire in Gaza, the World Health Organization (WHO) said on Sunday that it has lost communication with its contacts inside Al-Shifa Hospital.
"WHO again calls for an immediate humanitarian ceasefire in Gaza as the only way to save lives and reduce the horrific levels of suffering," WHO chief Tedros Adhanom Ghebreyesus wrote on X, terming the situation as "deeply worrisome and frightening".
A doctor at the Al-Shifa Hospital in Gaza City said on Saturday that the Israeli army opens fire on those who want to flee the hospital, reported Anadolu Agency.
The Israeli army has surrounded the hospital area and they are "not even a meter away, they are at the door," Fadia Malhis, a gynecologist at the hospital, told an Anadolu correspondent in frequently interrupted phone conversations.
"They shoot anyone who wants to go out of the hospital. If anyone moves between units, they shoot them. There are many martyrs in the yard in front of the emergency room, the situation is very bad and dangerous, it is indescribable," she said.
"It is like a prison without water, electricity, or food. There were more than 100 martyrs in the garden. They opened fire at those who tried to bury the martyrs in the hospital yard. The hospital garden is full of martyrs. Some tried to escape from the hospital, and they also killed them. They fired at me too," she added.
Citing a power outage in the hospital and underlining the deteriorating condition of infants in the incubators in the intensive care unit, she said: "There are 60 babies in the intensive care unit, 39 of them are intubated, one baby died in the afternoon. These (infants) will die one after the other."

She called for immediate action to cease hostilities around the hospital, saying: "Please, save us, stop this war, otherwise we will die. There are dead people everywhere. Save us, the situation is very bad."
Later on Sunday reports surfaced of an Israeli air strike destroying the cardiac ward of Al-Shifa hospital as fighting around the medical facility intensified.
"The occupier (Israel) completely destroyed the cardiac department of Al-Shifa hospital… The two-storey building has been completely destroyed in an air strike," Youssef Abu Rish, deputy health minister in the Gaza Strip told AFP.
Witnesses confirmed a strike on the hospital, which AFP was unable to independently verify.
The Israeli military did not immediately respond to a request for comment.
Meanwhile, the Palestinian Red Crescent Society said that babies in Al-Quds Hospital are suffering from dehydration amid Israel's ongoing attacks on the hospital.
"Babies in Al-Quds Hospital are suffering from dehydration because of lack of milk," the humanitarian rights organization wrote on X.
The medical staff is working around the clock despite power outage and heavy Israeli airstrikes close by, it added.
Meanwhile, Al Ahli Hospital in Gaza reportedly ran out of blood.
"Our wounded are dying after surgery because we can't transfuse them," wrote Dr Ghassan Abu Sitta said in a post on X.
In the Indonesian Hospital in Beit Lahiya in the northern Gaza Strip, Mosab Subeih, a baby boy, Mosab Subeih, had been rushed in from a house that was struck by an Israeli missile.
"He has a direct injury to the head and bleeding, and we have no surgeries," said one of the medics, who were treating him with a manual resuscitator as power had been cut.
Video footage shared by Anadolu Agency on X showed consecutive attacks by the Israeli army in the hospital's vicinity.
The Palestinian Red Crescent Society later took to X to apprise that the Al-Quds Hospital was no longer operational due to unavailability of fuel and power outage.
"PRCS holds the international community and signatories of the Fourth Geneva Convention accountable for the complete breakdown of the health system and the resulting dire humanitarian conditions," it wrote on X.
Reports of possible captives deal
Israel's three major TV news channels, without citing named sources, said there was some progress toward a deal to free captives held by Hamas in Gaza.
However, Netanyahu said he would not discuss details of any possible deal, which according to N12 News would involve 50 to 100 women, children and elderly being released in stages during a three to five day pause in fighting.
According to the reports, Israel would release women and minor Palestinian prisoners and consider letting fuel in to Gaza, while reserving the right to resume fighting.
In Tel Aviv, thousands joined a rally to support families of the captives.
Growing calls for ceasefire
Meanwhile, thousands of people rallied across the world calling for an immediate ceasefire.
In London, at least 300,000 pro-Palestinian demonstrators marched and police arrested over 120 people as they sought to stop far-right counter-protesters ambushing the rally.
Over 20,000 people joined a pro-Palestinian rally in Brussels.
Meeting in Saudi Arabia, Muslim and Arab countries called for an immediate end to military operations in Gaza, rejecting Israel's justification of self-defence. A communique issued at the summit urged the International Criminal Court to investigate "war crimes and crimes against humanity that Israel is committing."