New UK initiative will boost trade with Pakistan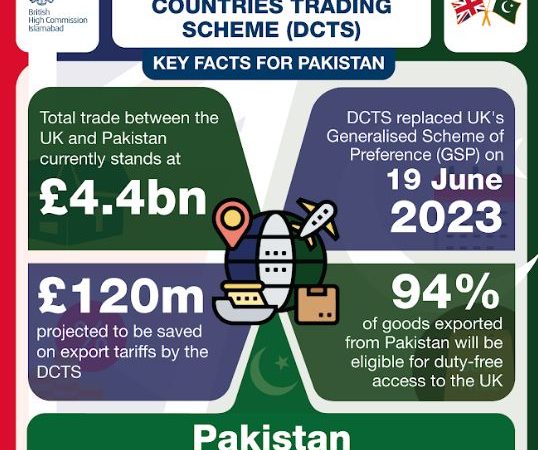 ISLAMABAD, JUN 20 /DNA/ – The United Kingdom's Developing Countries Trading Scheme (DCTS) has now entered into effect, providing tariff reductions and simpler terms of trade to Pakistan and 64 other countries.
The new scheme has replaced the Generalised Scheme of Preferences (GSP) and will help drive business between the UK and developing countries, reducing the need for aid.
UK Minister for International Trade Nigel Huddleston launched the scheme on Monday, during a visit to Ethiopia's largest industrial business park, Bole Lemi. Under the DCTS, Pakistan has retained its enhanced preferences status and will continue to benefit from duty-free exports to the UK on 94% of goods exported. It will also remove tariffs on over 156 additional products, and simplify some seasonal tariffs.
Total trade (goods and services) between the UK and Pakistan each year currently stands at £4.4 billion. It is expected that £120 million in tariffs will be saved on exports to the UK under the scheme.
Pakistan and other DCTS countries will be supported to participate in the international trading system through the UK's Trade Centre of Excellence, which will provide specialist support to fully participate in the global trading system. This may include support on meeting trade standards, and participating in multilateral trade forums.
UK's Trade Director for Pakistan and British Deputy High Commissioner, Karachi, Sarah Mooney, said:
"This is a major development in the trading relations between the UK and Pakistan. This important new scheme will further strengthen the economic ties between our two great countries, helping Pakistan to bolster its exports to the UK and harness the power of trade for development.''