NEC meeting approves 5.5pc GDP growth target for RY15-16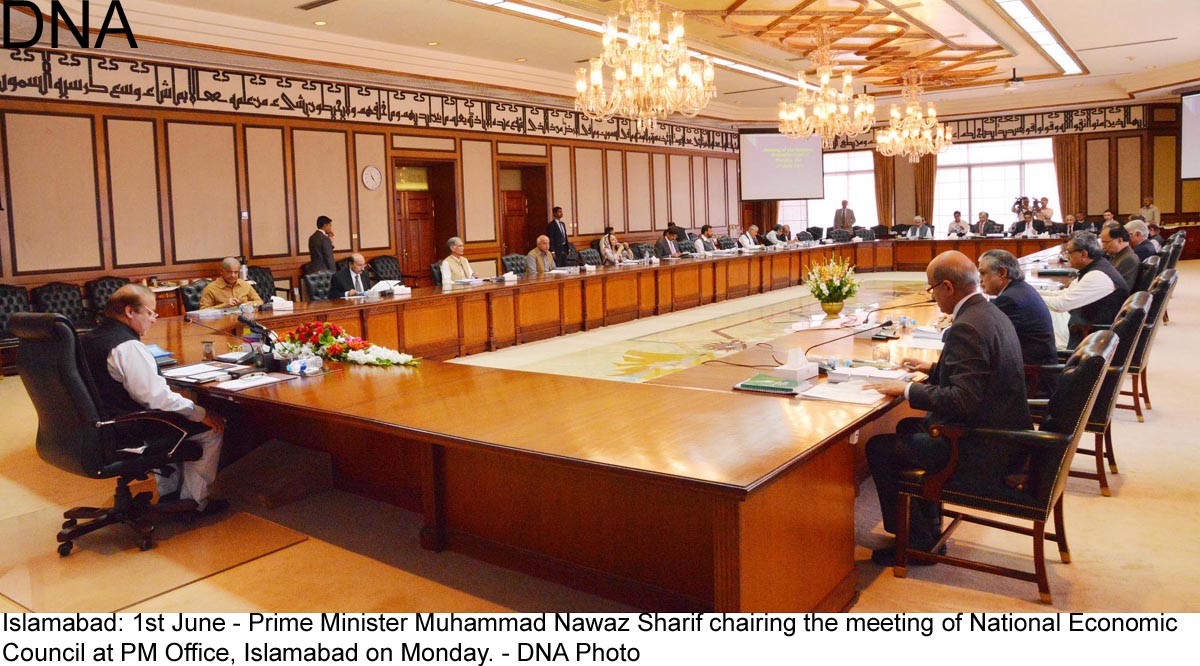 ISLAMABAD: The National Economic Council (NEC) in a meeting chaired by Prime Minister Nawaz Sharif at PM Office on Monday approved a Gross Domestic Product growth target of 5.5 per cent for the upcoming fiscal year 2015-2016 (FY15-16).
Previous years' real GDP growth estimates were typically overstated, with achieved real GDP growth figures missing their mark annually from FY09-10 to FY13-14.
The NEC approved a Rs1.514 trillion development outlay including:
Rs700 billion as funds towards the Public Sector Development Programme (PSDP)
Rs814b as funds towards the provincial Annual Development Programme (ADP)
The council meeting also decided on FY15-16 growth targets for the agricultural and manufacturing sectors, with the former set at 3.9pc and the latter at 6.1pc.
The target for exports in FY15-16 has been set at $25.5b.
The meeting of the council was given an overview of Pakistan's economy in FY14-15 in addition to being briefed about the budget outlay for FY15-16.
The meeting approved the macroeconomic framework for the 2015-2016 Annual Plan.
A progress report of the Central Development Working Party (CDWP) from April 2014 to March 2015 was also presented before the NEC and the Planning Commission was authorised to publish the 11th five-year plan.
Nawaz Sharif directed that funds for projects being financed by the federal government should be allocated to priority projects through coordination with provincial governments to ensure optimum utilisation of funds, and to reduce chances of duplication.
The meeting was attended by chief ministers of all four provinces; Governor Khyber Pakhtunkhwa; Chief Minister Gilgit-Baltistan; Ministers for Finance, Planning and Water, and Power; Finance ministers of all provinces, as well as Azad Jammu and Kashmir; Secretaries for the ministries of Finance and Planning, and other senior government officials.