Prime Minister Nawaz Sharif meets Prime Minister Shinzo Abe of Japan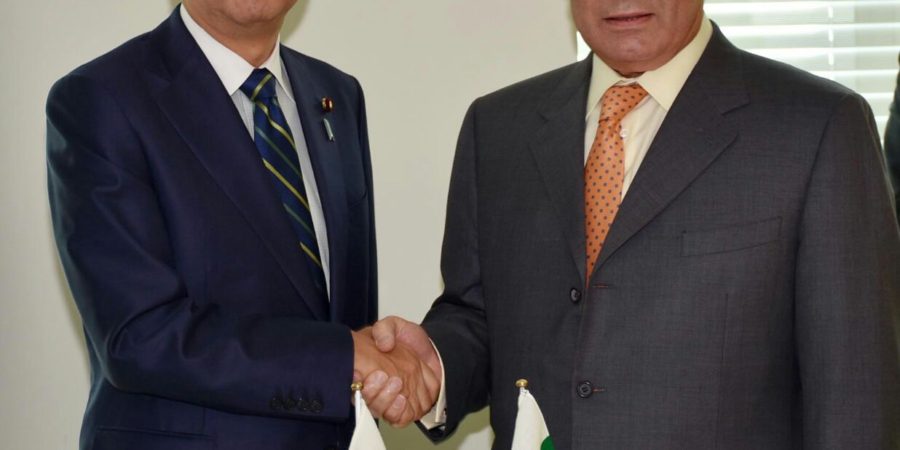 Prime Minister Muhammad Nawaz Sharif met Prime Minister Shinzo Abe of Japan on the sidelines of the 71st UN General Assembly session in New York, earlier today. The two leaders had last met on the margins of the 68th UN General Assembly session in September 2013.
Prime Minister Muhammad Nawaz Sharif termed Japan as a close friend and a development partner.
Japanese Premiere extended his support to Pakistan's counterterrorism efforts, economic reforms and Prime Minister Muhammad Nawaz Sharif's endeavours for reaching out to neighboring countries for the sake of regional peace, stability and prosperity of the people.
Mr. Shinzo Abe strongly condemned recent terrorist incidents in Quetta and other cities and extended his condolences on the loss of precious lives during the terrorist attacks.
The two sides expressed concern over the recent developments in the Korean Peninsula. Pakistan strongly condemns the recent nuclear tests conducted by North Korea and urge it to abide by its international treaty obligations, the Prime Minister said.
Regional situation, particularly in India and Afghanistan also came under discussion.
The Prime Minister raised the plight of the innocent Kashmiri people at the hands of barbaric Indian occupation forces. Japan is a major country; I request you to exercise your valuable influence and urge India for ending human rights violations in the Indian Occupied Kashmir. The Kashmiri people must be allowed to chose their destiny in accordance with the long held commitment of the international community through UNSC resolutions.
The Japanese Prime Minister also expressed his deep concern over the present situation in the Indian Occupied Kashmir.
On Afghanistan, the Prime Minister apprised the Japanese Premiere of Pakistan's efforts for peace and reconciliation and reiterated Pakistan's desire for a stable and prosperous Afghanistan.
Japanese Prime Minister said that the current bilateral ties between the two countries need to be deepened. Prime Minister Muhammad Nawaz Sharif said that Pakistan has huge potential for investment in diverse fields; Japan can bring the capacity to produce value added goods and also benefit while investing in diverse fields in Pakistan.
Japan is one of Pakistan's largest trading partners with annual bilateral trade of US$ 1.86 billion. This trade needs to be enhanced further, the Prime Minister said.
Pakistan's successes in Operation Zarb-e-Azb, military campaign against terrorists as well as implementation of the National Action Plan to eliminate terrorism and violent extremism has restored peace in the country; economy is boosting and we are achieving energy self sufficiency, the Prime Minister said. All these achievements have reinforced confidence of the foreign investors and made Pakistan an ideal destination for investment, the Prime Minister stated.
The meeting was held in a cordial and friendly atmosphere and both sides agreed to enhance frequency of high level interaction in order to lend momentum to bilateral ties between both countries.