Nawaz has forgotten about Charter of Democracy: Bilawal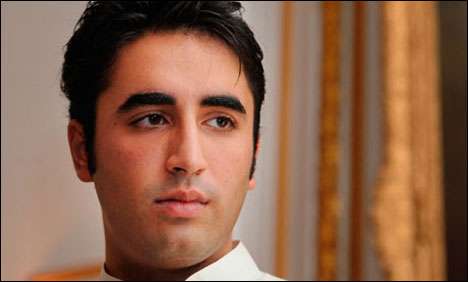 BARNALA, June 21 (DNA): Pakistan People s Party (PPP) Chairman Bilawal Bhutto on Tuesday addressed a public gathering at Barnala, Azad Kashmir, on the occasion of late Benazir Bhutto's 63rd birthday.
Bilawal stated that Prime Minister Nawaz Sharif has forgotten about the Charter of democracy, adding that the parliament is given no importance in the country. He said that the country needs a Prime Minister like Benazir Bhutto. He enquired that if the country could function without the PM for a month then what was the need of the Prime Minister at all.
He stated that Benazir made the impossible possible, adding that every aspect of her life was exemplary. He stated that his politics catered farmers, laboureres, youth and the depressed. He added that he shall soon visit other areas of Punjab, Balochistan, Khyber Pakhtunkhwa (KP) and Sindh. He stated that he conducted the biggest public gathering in the history of Rahim Yar Khan.
He stated that the institutions of the country were suffering because PM Nawaz failed to work on the Charter of Democracy. PPP Chairman said that democracy exists by name in the country as the mode of governance is similar to monarchy. "Benazir s son wants an economical system based on equality," said Bilawal, further adding that the people shall be provided education, health facilities free of cost whereas employment will also be given to the people.
Bilawal said that the people s money shall not be wasted on the construction of Metro bus projects but will be utilised upon the betterment of individuals if the economy of the country gets based on the ideas of Benazir Bhutto. He stated that the country needs such a Prime Minister who can look the world right in the eye.
He further stated that Pakistan cannot take lectures on peace from butcher of Gujarat , adding that if Pakistan Muslim League-Nawaz (PML-N) succeeds in Azad Kashmir then it will appear to be Indian Prime Minister (PM) Narendra Modi s victory in the region. DNA