Narrative that I've intentionally created separate group within SC factually incorrect: Justice Isa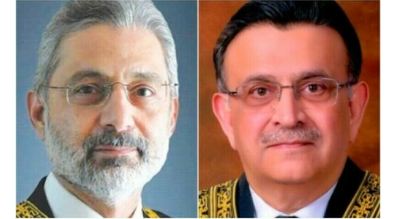 ISLAMABAD, JUN 2: Senior puisne judge of the Supreme Court (SC), Justice Qazi Faez Isa, on Friday said that the "narrative" of him having "intentionally created" a separate group of judges within the superior judiciary was "factually incorrect and completely untrue".
Justice Isa's remarks were part of a clarification he issued regarding a video posted on social media which implied as if he had snubbed Chief Justice of Pakistan Umar Ata Bandial after the oath-taking ceremony of Federal Shariat Court's (FSC) Chief Justice Iqbal Hameedur Rahman.
The statement, a copy of which is available with, quotes the judge recalling the incident and explaining the circumstances around it.
Justice Isa said that by the time the video was shot he had already met the CJP and greeted him while greeting the wife of Justice Hameed.
"Later, I went to talk to Dr Syed Muhammad Anwer, a former Aalim Judge of the FSC, when Justice Bandial came to greet him too," the statement said. "Someone recorded this moment and incorrectly added that I had not greeted Justice Bandial even though just a few minutes earlier I had done so."
The statement said that Justice Rahman's wife wanted to introduce Justice Isa to some of her family members "which was the reason I turned (my back)".
He criticised the "erroneous interpretations" of the viral video on social media, adding that "garnishing facts to create a controversial narrative was damaging to the institution."
"I stand by my oath of office, to defend and uphold the Constitution of Pakistan and cannot concur with anything less," he added.
Justice Isa requested the media to not propagate "factually incorrect stories" as they cause "unnecessary and avoidable misgivings and harm".
"My family and I can attest to the pain of being the brunt of sponsored false stories in the recent past," the statement further said.
"Let us not be detracted, let us work together to build a strong judicial system that focuses on the administration of expeditious justice."
Earlier today, Justice Isa and Chief Justice Bandial also planted a sapling in the Supreme Court's garden in Islamabad.