Mustafa Kamal asks Interior Minister to look into already available evidences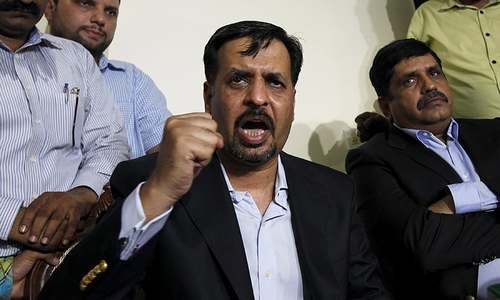 KARACHI, 07 MAR (DNA) – Former Karachi Mayor Mustafa Kamal Monday responded to Interior Minister Chaudhary Nisar Ali Khan's statements and said that the Interior Minister needs to look into already available evidences regarding the claims he made in his press conference last week.While addressing a press conference along with Dr Sagheer Ahmed and Anees Qaimkhani, Kamal said that the people have understood his message and that he is being contacted from individuals across the globe.
He said that anyone who enters the party is not being discriminated on the basis of his previous political affiliations or religion, all are workers. Kamal said that he is not joining any political party nor has any contact been established with Pakistan Tehreek-e-Insaf (PTI).
"We are not joining any party. National flag will be our party's flag," he said. Mustafa Kamal has claimed that he has received an unprecedented response from people across Sindh and Pakistan following his announcement of setting up a new political party.
"People are joining us from every part of Pakistan. We have succeeded to get our message across," Kamal told media persons. "All those who are coming here are our workers," he said, adding that his party would welcome everyone with any discrimination of race, religion or ethnicity.
He further added that making new provinces is no sin but when a RAW agent would talk about the creation of new provinces, the people may perceive it as a step towards separation. DNA