Musharraf admits untaxed Rs1 bn in foreign accts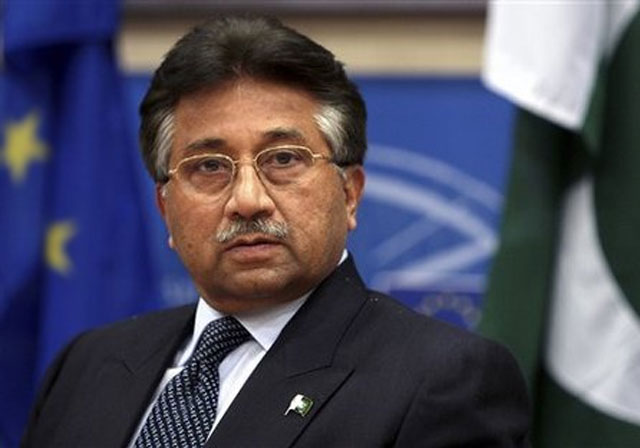 ISLAMABAD, NOV 09, (DNA):   After almost four years of the unearthing of his dubious journey from rags to riches, General (retd) Pervez Musharraf has now finally revealed that he was helped by the late Saudi King Abdullah in a big way after he left power and had no place of his own to live in the UK.
In a interview, Musharraf said that he did not beg for money but King Abdullah gave him a huge amount. He did not disclose the exact amount paid to him.
Once a close aide of the former dictator, on condition of not being named, told this correspondent recently that besides the Saudi King, Musharraf was also helped by rulers of another Arab state. Musharraf, however, did not confirm this.
In 2012, media had unearthed General (retd) Pervez Musharraf's foreign accounts containing millions of dollars. A Musharraf party leader then strongly rebutted the report.
However, in his income tax returns as shared by him with the Election Commission of Pakistan for 2013 general elections, Musharraf neither mentioned that he was the recipient of a "gift" from Saudi ruler nor disclosed his wealth outside Pakistan.
In his memoirs – In the Line of Fire – Musharraf admitted that he had come from a really humble background where they did not have enough money but now he is billionaire.
In 2012, The media  in an investigative story had revealed foreign bank accounts of Musharraf and that he has also made huge saving investments abroad to earn large profits. In just one Dubai-based online trading service — MMA — Musharraf had US$1,600,000 (Rs 145 million) in 2011. Musharraf's account number in this company was AV77777.
In the Union National Bank, which is an investment bank in Abu Dhabi, Musharraf and his spouse Sehba Musharraf, had a joint account No 4002000304, in which the amount in 2011 was almost UAE Dirhams 17,000,000 (Rs 391 million). In the same bank — the Union National Bank — Mr and Mrs Musharraf had another joint account No 400200315, which was a dollar account. This particular account in year 2011 contained US$ 535,325 (Rs 48 million).
In yet another UAE Dirham account in the same financial institution — the Union National Bank –Sehba and Musharraf had almost UAE Dirhams 7,600,000 (Rs174 million) in 2011. The account No was 4003006700.
In the fourth account, No 4003006711, in the Union National Bank, the duo had UAE Dirhams 8,000,000 (Rs184 million). In the fifth account, No 4003006722 in the same bank — the Union National Bank — Musharraf and his wife had US$8,000,000 (Rs728 million).
In the sixth account, No 4003006733, Mrs Sehba Musharraf and Mr Pervez Musharraf had UAE Dirhams 8,000,000 (Rs184 million) in 2011. In the seventh account, No 4003006744, in the same Union National Bank, the duo held UAE Dirhams 8,000,000 (Rs184 million) in 2011.
In their eighth account in the same bank — the Union National Bank Abu Dhabi — the duo had US$1,300,000 (Rs118 million).
However, General (retd) Pervez Musharraf's tax returns of three years — tax year 2010, 2011 and 2012 — which he shared with the ECP before 2013 election, showed that despite having billions in his possession he did not pay even a single penny as tax during these years.
In his nomination papers filed for the May 2013 elections, Musharraf had declared the total value of his assets at Rs645 million. In the assessment year 2012, he declared Rs1,567,000 as his total income but paid no tax. In the 2011 assessment year, he declared Rs1,467,420 as his income but paid no tax. In the year 2010, he declared Rs1,386,168 as his income but paid no tax.
In his tax papers of these three years, there is no mention of who helped him with millions of dollars or how he had accumulated billions in foreign accounts besides the property that he had purchased in London and Dubai.
Former military ruler Pervez Musharraf has said that Pakistan and India during his tenure had completed the survey of Sir Creek and agreed on the demarcation line in Siachen. He said PanamaLeaks have brought a bad name to the rulers.
In an interview the former president said that he did not ask the then prime minister to go to Washington and ask President Clinton to use his good offices for ceasefire in Kargil. He said during his government, Pakistan enjoyed great respect at the international level and internal economic situation was strong and GDP growth was more than India.
In reply to a question, Musharraf said his conscience is clear that he did not commit corruption of a single paisa and if it is proved against him or his family he was ready to answer that. He said he did not have a dollar account offshore.
He said he stayed in London in the house of a friend Brigadier Niaz for six months which is located in a posh area of the city because he had no money to pay for the rent.
The former president disclosed that after a few months of leaving Pakistan he went to Saudi Arabia to perform Umra and King Abdullah then asked him where he was staying. Musharraf said King Abdullah considered him as a younger brother and gave him a big amount of money by opening a bank account in his name in London.
He said a team of Saudi officials came to him at midnight and got his signatures on papers to open the bank account. He said after that he started lectures and for every 40-minute lecture he got between 100,000 to 150,000 dollars. He said he even gave lectures in India and charged them but did not claim any money from TV interviews.
To another question, the former president said he knew that his popularity graph has dropped.=DNA
==========