Mock Flood Exercise Conducted In Indus River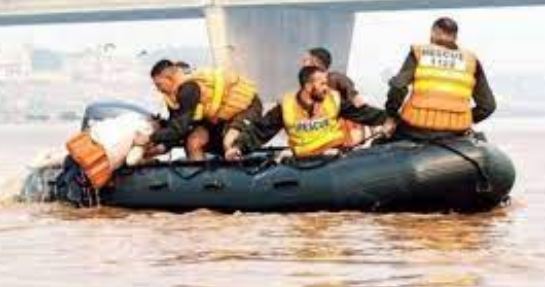 QAZI SHOAIB KHAN
ATTOCK (MAY-31) Rescue 1122 Attock led by Ali Hussain District Emergency Officer conducted a mock flood exercise at Shadi Khan in the Indus River to deal with the flood situation in the coming monsoon. DSP Traffic Attock Tahir Abbas, SHO Police Station Rango Haji Mohammad Nawaz, Media Coordinator Rescue Amir Nawaz, In-charge Hazro Muneeb Qureshi, District Officer Civil Defence Organization Attock Aqeel Alam Khattak, Group Warden Publicity Nisar Ali Khan and their entire team. DHO Hazro Dr. Rasheed Khan, President Ujala Ghourghashti, Hafiz Wasiq Khan, GS Javed Akhtar, Vice Presidents Saeed Lala, Shaukat Saleem and Chairman of All Brothers Welfare Trust Muhammad Ishaq and Chairman for Pakistan Sher Rehman along with their respective teams and ambulances were present on this occasion. Emergency control room established by Rescue 1122, other institutions and private welfare organizations Ujala, All Brothers also set up relief camps to provide timely and better relief to the people. The Assistant Commissioner inspected Rescue 1122 Attock and the relief camps and mock drills set up by all institutions and private organizations to deal with the floods. Rescue 1122 demonstrated the emergency evacuation and diving of people trapped in flood-affected areas, the trained Community Emergency Response Teams of Rescue 1122 also performed well and appreciated the audience. Expressed complete satisfaction with the performance of the institutions, especially Rescue 1122. Speaking to the media, Assistant Commissioner Kamran Ashraf said that we have already taken steps to deal with the possible flood situation in view of the forecast of monsoon rains so that relief can be provided to the people in time.
The objective of the exercise is to test the performance of the institutions in providing emergency assistance to people in case of possible floods. He said that the performance of all institutions including Rescue 1122 and Civil Defence is satisfactory and all institutions across the district have full capacity to deal with any emergency situation. District Emergency Officer Ali Hussain said that Rescue 1122 is fully prepared to deal with the flood situation and Rescue 1122 is equipped with trained manpower and modern techniques and modern equipment and the rescue personnel are ready for everyday emergencies as well as any sudden calamity.
District Officer Civil Defence Aqeel Khattak said that with limited resources and self-help, the trained volunteers of Civil Defense are ready to deal with any emergency situation with the best skills.